What is a modular kitchen?
A modular kitchen refers to modern kitchen furniture that has been constructed in modules or units. These consist of cabinets and other selected elements of standard sizes. A modular kitchen is usually a combination of wall units and base units.
Modular kitchens are designed to maximise utility and allow for efficient space management, especially when it comes to small kitchen design. Each unit is made from diversified materials and comes with modular kitchen accessories so that you can place things inside conveniently and keep your kitchen organised and clutter-free.
A modular kitchen can be constructed according to your kitchen design ideas, need, storage requirements, and budget. Modular kitchens ensure that your kitchen space is properly utilised and no space is wasted. Modular kitchen units can be completely dismantled, which means if you're shifting houses you can take your modular kitchen with you.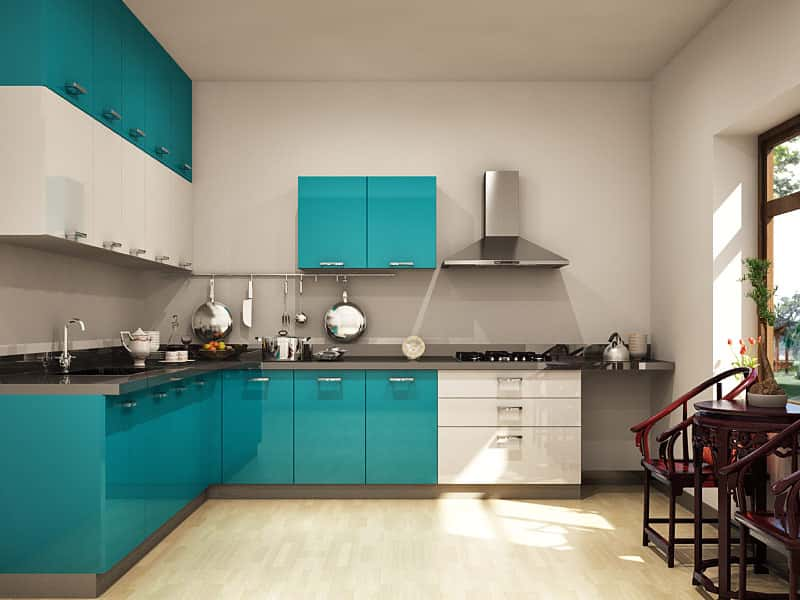 Modular kitchen designers choose modular units of standard sizes customised to suit your space. Modular kitchens can be built in a straight line, with the hob, fridge and the sink or they can be L-shaped, which allows you to utilise the corners as well. Sometimes, a galley or parallel layout is used in modular kitchens, with two units placed on two parallel walls of your kitchen with a passage in between.
Often, when it comes to making a big decision, the queries are many and the answers few. Here are some popular modular kitchen-related FAQs, to help you make the right choice.
1. What are the advantages of modular kitchen?
Hygienic – Modular kitchens consist of wooden blocks and are specifically designed to keep your kitchen clutter-free and clean. They are most definitely more hygienic and, given that the kitchen is where food is made, are better options than traditional kitchens. Cleaning a modular kitchen also takes a lot less effort.
Space Management – Every corner of your kitchen is properly utilised and each modular unit is specifically designed for convenience. These units can be shifted or rearranged so that everything, be it the hob, the sink or your work area, are within easy reach.
Space utilisation – You can access every corner of your kitchen with the use of modular kitchen accessories such as racks, baskets, holders, bins and trays. The compact design of a modular kitchen allows for maximum space utilisation.
Cost-effective – Compared to the price of constructing a traditional kitchen, where each element has to be individually selected, fitted and workmen hired to put everything together, a modular kitchen is relatively cheaper. Because modular kitchens manufacturers produce such kitchen modules in bulk, everything is set up efficiently and with minimum wastage. Thus, modular kitchen designers can afford to give you better modular kitchens prices.
Easy repair – Each unit can be detached and removed from a modular kitchen. Therefore, in case a specific unit needs repairs, it can be done efficiently and easily, and you won't have workmen hammering away in your kitchen all day long either. Individual units can easily be replaced without even slightly altering the rest of the components. And they are durable as well.
As with traditional kitchen units, you can pick and choose the elements used in the construction of modular units, the handles or knobs used on each unit and the finish and style of the units as well. Therefore, a modular kitchen is a great idea if you spend a lot of time in the kitchen.
2. Is there any warranty/guarantee provided?
Most modular kitchens exporters and manufacturers offer a standard warranty for their products. This may vary depending on your manufacturer. Usually manufacturers will give you a replacement warranty against manufacturing defects but, as with any other product, it is unlikely to cover natural wear and tear.
3. What type of material is used?
The external structure and shutters can be made of MDF, ply-laminated with veneer membrane or acrylic, or wood. External structures can come in a variety of finishes so you get to pick and choose what works best for you. The internal structure is usually constructed from MDF or plywood.
Countertops are usually made from granite, tiles, wood or cement. However, you might want to consider the xost of kitchen countertops per square foot before you invest and wooden or granite countertops, though popular, are more on the expensive side. It is a good idea to go for a water-proof countertop, to minimise the wear and tear in your modular kitchen.
Water-proof countertop
When it comes to handles, you can choose from different designs and sizes; these are usually made from stainless steel and some even come with chrome-plating. Modular kitchen accessories, such as baskets, bins and racks are also usually made from stainless steel, which makes them durable and easy to maintain.
Modular kitchen cabinet handle made of stainless steel
Most people still opt for wooden kitchen cabinets when it comes to designer kitchen cabinets. However, if you wish to do something different with your kitchen cabinet designs, you could also choose melamine, which comes in various vibrant shades. Composite material is a cheaper option without any compromise on durability or quality. You could also consider a glass kitchen cabinet, which is durable and looks beautiful, especially in corner cabinets.  It's easy to find kitchen cabinets online these days, especially if you know what you're looking for.
4. What are MDF and Marine PLY?
Medium density fibreboard is a man-made refined particle board. It is created by combining small wood residuals with wax and a resin binder. The whole combination is subjected to high temperature and pressure to form dense and steady panels. MDF was developed in 1960s and has been in use ever since. Since MDF boards have a uniform structure, it's easy to make furniture from them.
Marine ply is a type of plywood used for specific purposes. It's made from durable veneers which have hardly any defects, which is why marine ply works great in humid and wet conditions. It also resists the growth of fungus and is ideal for kitchens. Of course, because it comes with all of these benefits, marine ply is expensive.
Find out more about MDF here. 
5. How is the kitchen designed?
Most manufacturers have standard design catalogues with modular kitchen interior design photos. You can choose one and have it customised according to your preferences and the amount of space available in your kitchen. A modular kitchen designs catalogue is likely to incorporate Indian modular kitchen designs as well as what's trending around the world, to give you a variety of options to choose from.
Once you've decided on your modular kitchen interiors, after consulting your manufacturer and giving them the measurements of your space, the modular kitchen is assembled and finally installed. Each module is independently constructed keeping the aesthetics in mind and also to optimise storage space.
6. What are the accessories you can use in a modular kitchen?
Before you decide to buy modular kitchen accessories it is a good idea to find out a little more about them. The different types of accessories include:
Base units – Usually modular kitchens come with atleast 2 base units, one for your oven and one with drawers and shelf space, which you can use as a countertop for working in the kitchen. The base units are designed to accommodate the hob, which is basically your cooktop, and sometimes the kitchen sink.
Wall units – These are placed on the wall according to your height and convenience, so that your stored utensils and jars are kept within easy reach.
Wall and floor tiles – Most kitchens are equipped with ceramic tiles although wooden flooring and laminates are increasingly becoming more popular.
Worktop – This is where you do the work, the chopping, grinding, mixing and prepping of food. It's a good idea to ensure that you choose a water-proof worktop.
Kitchen appliances
Chimney, a kitchen sink, a hob and /or a dishwasher
Kitchen shelves and accessories – These can be made from various types of material such as durable glass or wire, although stainless steel is most preferred as it is durable as well as stylish.
Baskets – These can be of several types although the plain basket is the most commonly used variety. Other types include the cup and saucer basket, the utensils basket, the plate basket, the vegetable basket, the cup and saucer basket and the cutlery basket. These are usually made of wire or stainless steel. Baskets give you extra storage space in the kitchen and can be fitted inside the modular kitchen cabinets.
Partition Basket
They come in standard sizes and can be customised as well. Baskets are very convenient for daily use as they come with drip and dry facilities; some of these come with extra compartments for added convenience and ensure all your utensils and crockery are neatly organised. Baskets come in several shapes and sizes and you can everything from small items to large utensils and jars, inside, depending on the size and design of your basket.
Pantry units – These are sturdy, large units, usually used in professional establishments such as hotels and restaurants. These are designed to fit inside larger cabinets. Pantry units come with compartments to make organisation easier.
Kitchen Holders – Items like round bin holders, napkin and foil holders, wine glass holders and spoon holders make life easier in the kitchen. These help you keep kitchen accessories within easy reach.
Pull-out shelves – These can be used to store various items, ranging from large containers to small bottles of syrup; everything within easy reach without making the kitchen look messy and cluttered.
Pull-out shelf
Tall units – These are regularly used in professional establishments but you can use them in your home if you have tall storage cupboards or free standing kitchen cabinets. Each unit comes with multiple shelves and some can be customised according to your preferences. Tall kitchen units are a great way to store a large number of items even in a small modular kitchen.
Modular Kitchen trolley – These are durable and larger in size to accommodate large and heavy containers of grain etc. You could choose from a variety of kitchen trolly designs and sizes, all of which can be fitted inside cabinets and/or kept outside separately.
Carousels – These are usually placed in the corner to make sure every inch of your kitchen is properly utilised.
Racks – The simplest way to store your utensils, these come in various shapes and sizes and can be customised to fit inside the cabinets.
Modular kitchen spice rack
7. How can one make changes to the designs or the units?
Modular kitchens are a great way to renovate your kitchen and come in a variety of designs. However, if you are bored with your existing modular kitchen it is a good idea to change the entire set up to lend some uniformity to your kitchen design, rather than one unit at a time, which is difficult to do.
Modular kitchens come with ready made kitchen cabinets that are easy to transport. Each module in a modular kitchen is easy to dissemble and replace, which is a boon if you need to shift houses.
Different layout plans are available for modular kitchens and you can always opt to add a unit or change the layout of your modular kitchen. Even a small change to any one module can make a huge difference to the appearance of your kitchen, so make sure to match the new units to the existing ones.
Do keep in mind that once you've made alterations to your modular kitchen after it has been installed, the warranty is no longer applicable.
8. What grade of stainless steel is used in the accessories?
Premium grade stainless steel, which is of good quality, durable and temperature resistant, is used to design modular kitchen accessories. These are corrosion resistant and less prone to dame as well. SS 304 is a good idea because of its nickel content, which makes it corrosion resistant; do consider your budget before investing in this as it is more expensive.
The cost of modular kitchen accessories made from the 200 series of stainless steel is less but, while these are food safe, they are less corrosion resistant and of lesser quality.
Stainless steel recipe book holder
The thickness of the steel rods varies from 5 mm to 7mm, depending on the design and intended usage.
9. Can modular kitchens be fitted into a fixed platform?
Modular kitchens consist of carcasses or cabinets that can be fitted inside your kitchen, which means modular kitchen design can easily be adapted to suit your home. Accessories in fixed sizes can be fitted inside even small kitchen units. If your kitchen already comes with supports, sinks and cabinetry, it will be difficult to fit modular kitchen units into it. Typically, all you need to do is give the modular kitchens suppliers the measurements of your kitchen and they deliver standardised, readymade kitchen units to you.
If your kitchen is absolutely bare, you will need a box type, fully modular setup, which includes everything from cabinets to counters, pull-outs and shutters. If you already have granite counters or a kadappa (black limestone) framework, no need to completely alter the kitchen interior design; a modular kitchen can be customised and fitted into this. But this means only your external shutters and cabinet doors are modular in design and the overall look and feel of your kitchen will not be as stylish or ergonomic as a fully modular kitchen.
10. Can modular kitchens sustain water damage?
Whether your modular kitchen can sustain water damage depends mostly on the materials used in its construction. Wooden floors, countertops and cabinet shutters are less likely to withstand water damage in comparison to melamine, glass, composite material and marine ply.
As mentioned earlier, it is a good idea to choose a worktop made from water-resistant material, as this is the area most prone to water damage. That being said, any kitchen, modular or otherwise, needs to be taken care of and this means you need to wipe spills and water rings immediately, and clean the countertops, cabinets, shelves and accessories regularly.
Click here for modular kitchen ideas.