Small kitchens need big ideas, some clever designs and ingenuity. If your new apartment has a tiny kitchen and you don't want your cooking to spill on to dining space or living room, below are 10 trendy modular kitchen design ideas that you can use.
1. TINY CABINETS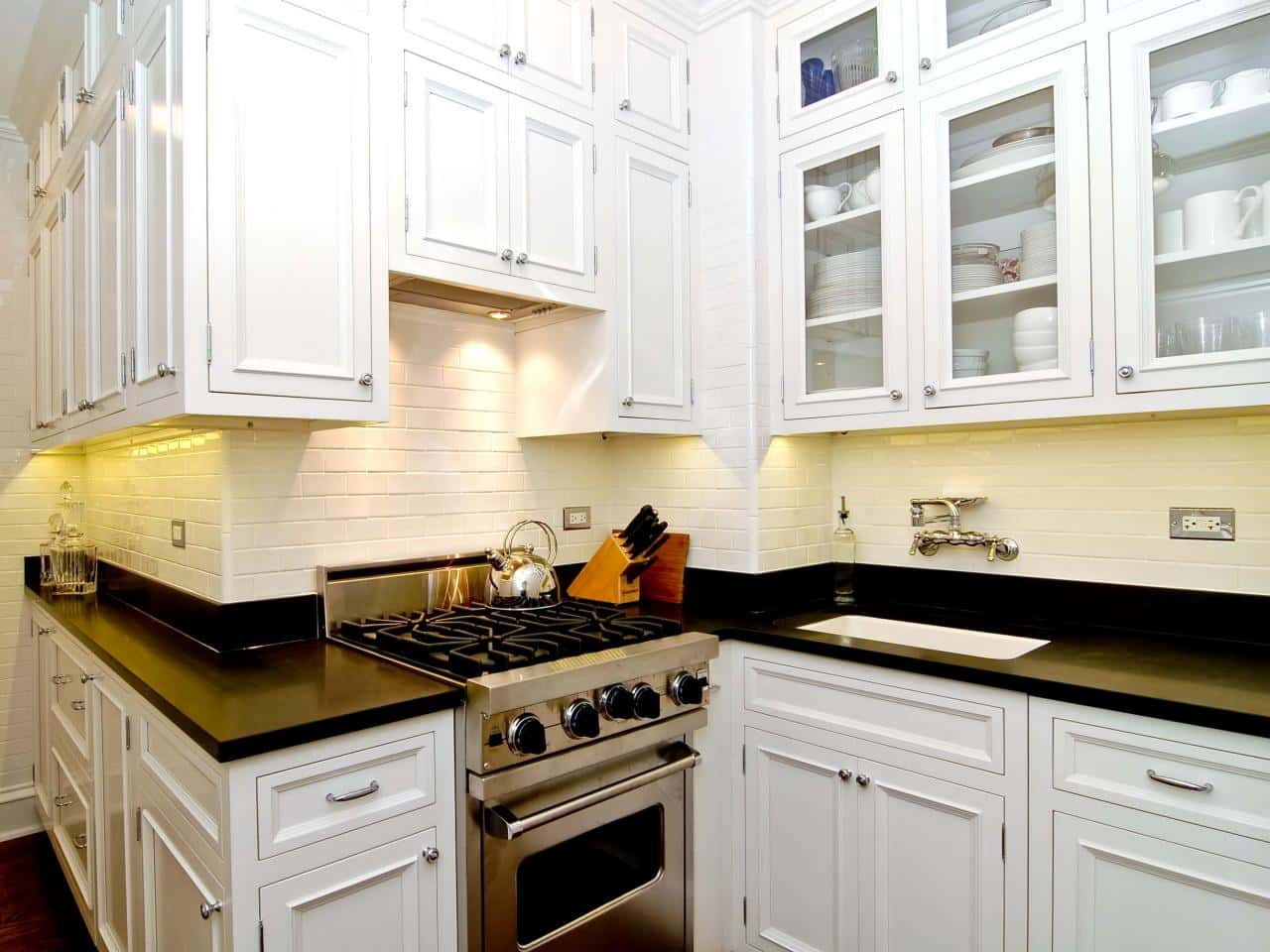 As much as it may feel painful to make do with tiny cabinets, they look quite lovely and can make organisation so much more easier. These little cubby's can go up anywhere, either towards the ceiling, over the window space or even on bare walls.
2. SINGLE SHELF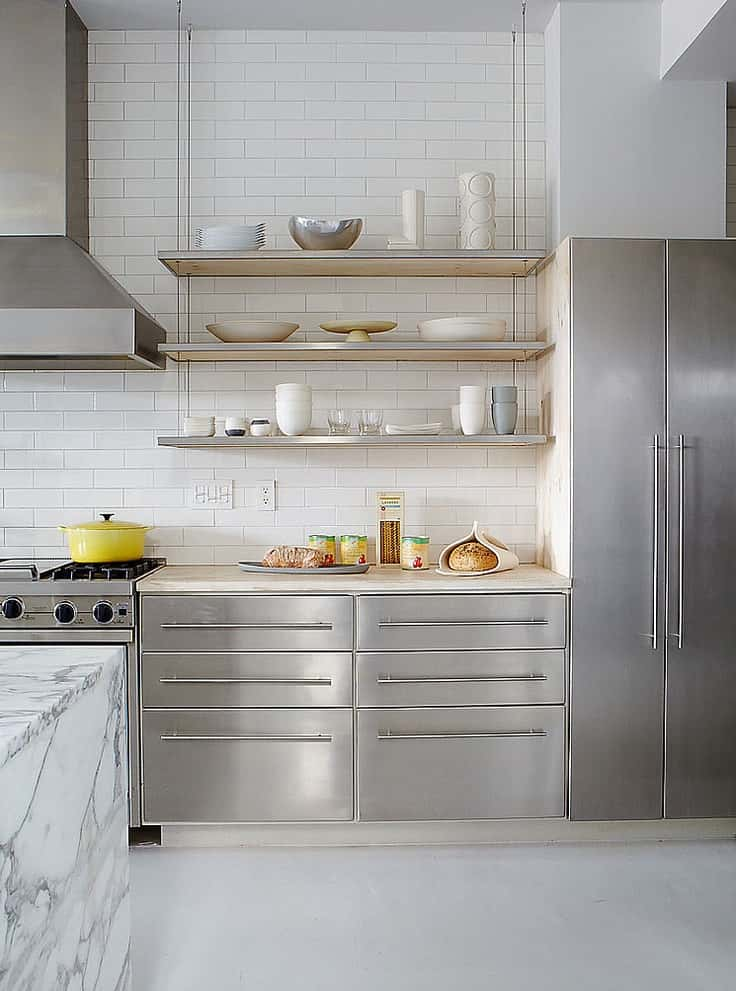 Adding a single ledge or shelf allows you to keep all your frequently used items discreetly and within easy reach. This is a great alternative to open shelving and also showcase cutlery and utensils that look beautiful.
3. POT RACKS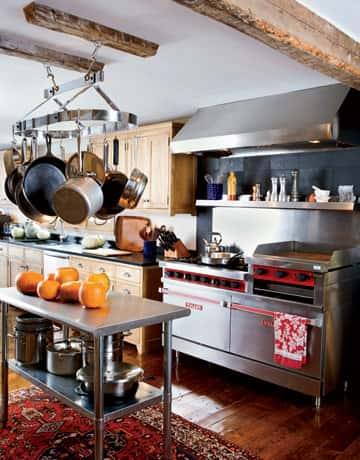 As pot racks become common, it's easy to see why they look beautiful and are functional too. Bulky pans and vessels take up much real estate and in small kitchens, this is a criminal waste. Racks over the counter or table are easily accessible and lend to the decor.
4. WHITE CABINETS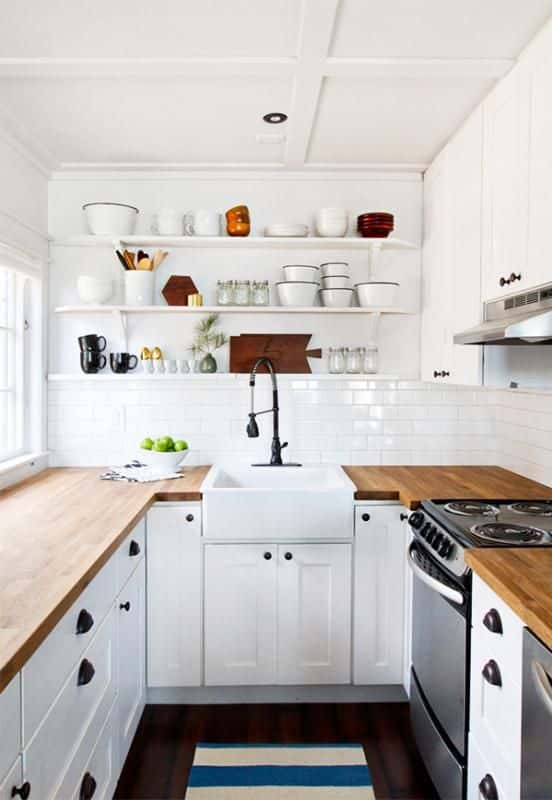 There's really nothing that can go wrong with white. In small kitchens, white cabinets dramatically brighten and expand the space. Besides the effect, 'white' also blends with a multitude of wall colors.
5. COPPER SHELVES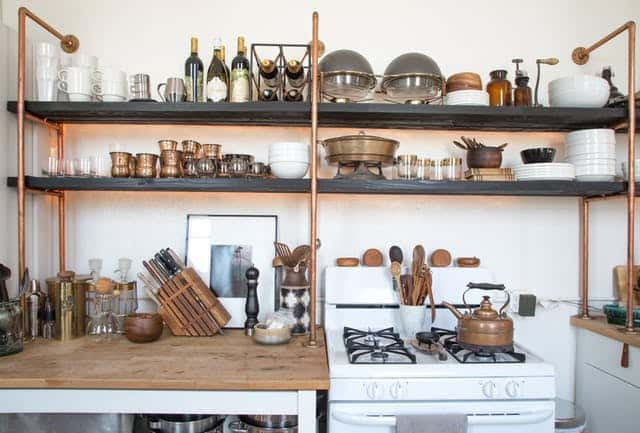 We previously used copper in our utensils, but they have now made a comeback in shelves and furniture accessories. Copper shelves are bare bone, open and mimic the open kitchens of old. Their beautiful color also lends to the look of the space.
6. BLACK CABINETRY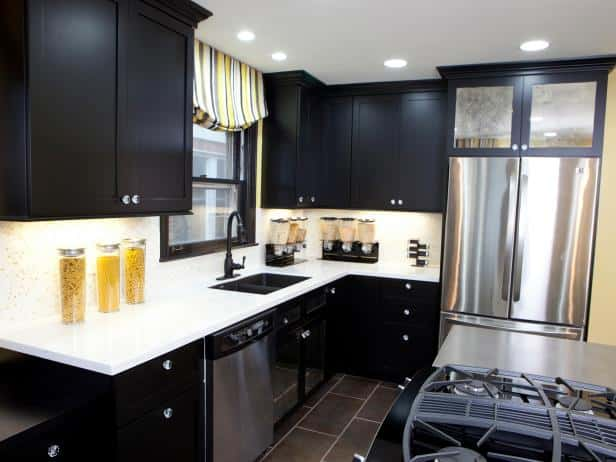 Black cabinets may contradict what we previously said about whites, but they look smart and beautiful if done well. In small spaces, black looks attractive and affords a balance when paired with different colored walls.
7. MIRRORED CABINETS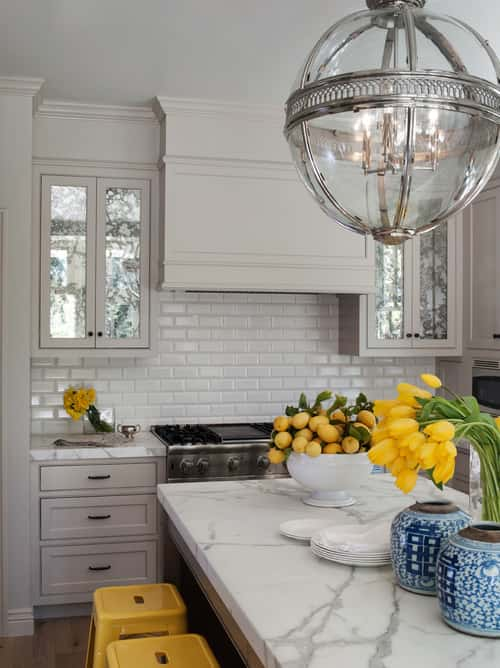 Mirrors reflect objects in small kitchens, giving the illusion of light and space. White cabinets and walls further add to the sense of space while making the room look elegant.
8. METALLIC SHEEN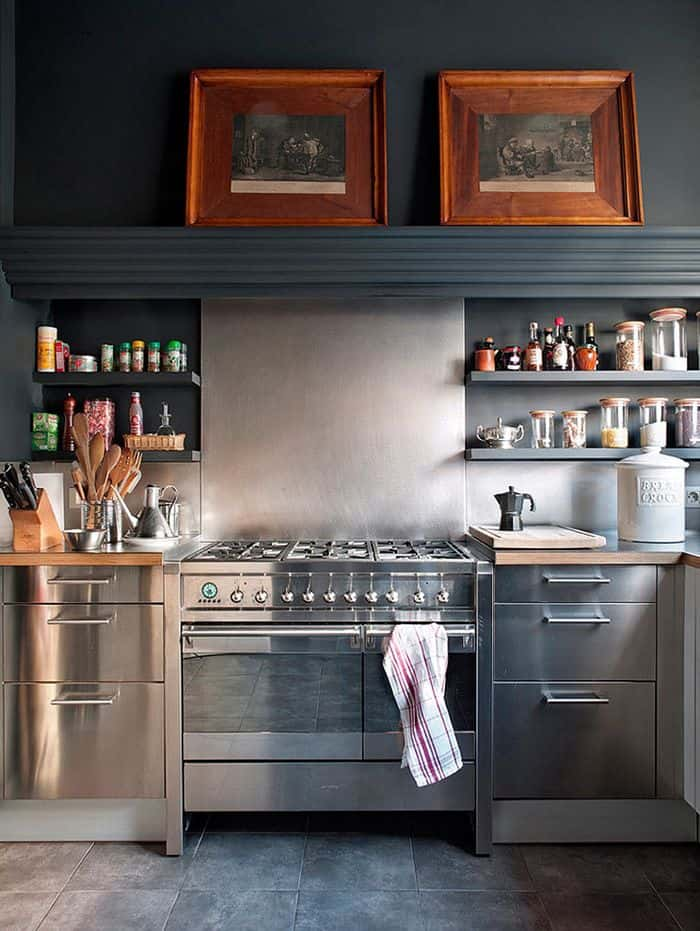 Stainless steel kitchens look beautiful in small spaces. Their elegant and silvery sheen reflect the surroundings, making them appear larger, while adding some excitement and dimension to a tiny space.
9. GLASS DOORS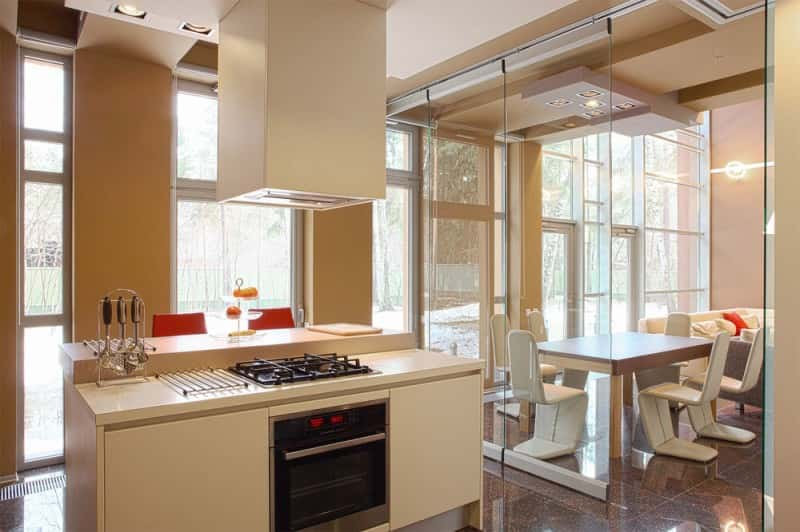 Glass doors make for an excellent addition to tiny kitchens, since they give the illusion of the cooking space extending into the dining or living area. Glass doors look good anywhere and especially in small apartments struggling with space constraints.
10. SATURATED COLOR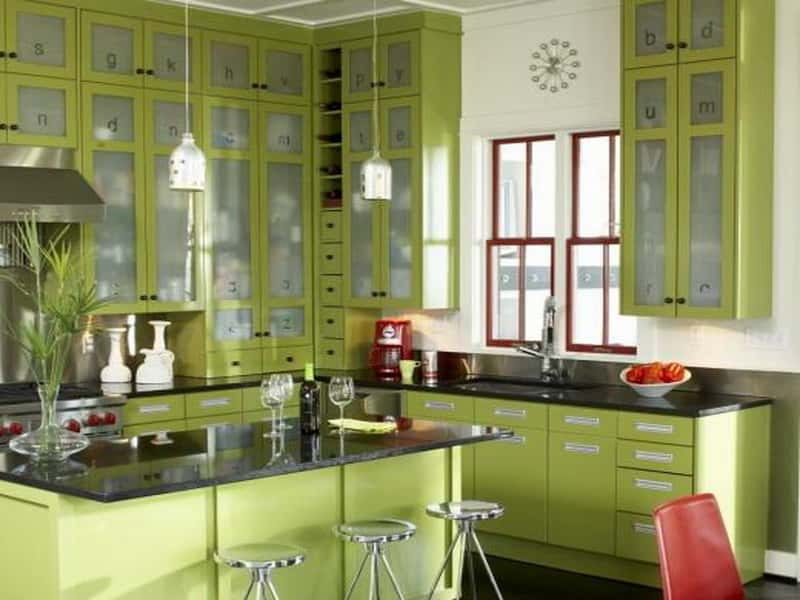 Although this may sound crazy, saturating a small kitchen with one color actually makes it look trendy and contemporary. Choose a color that you love and go crazy with it. You will always love walking into the space.
11. MIRRORED BACKSPLASH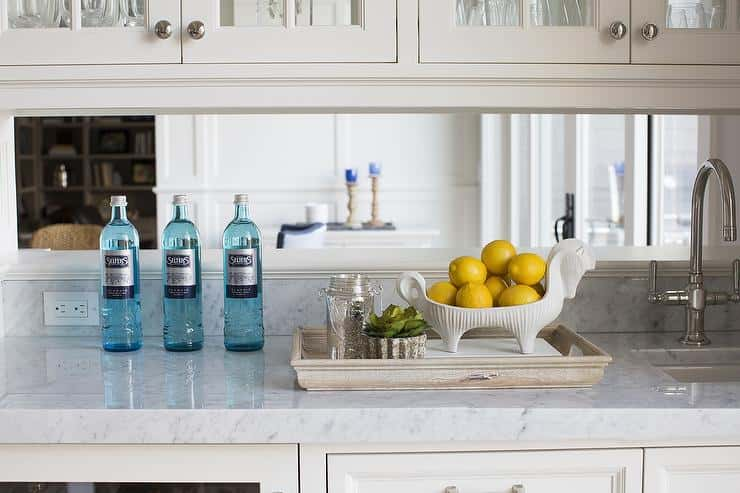 Mirrors can be placed anywhere and look especially good as backsplashes. They appear sophisticated, reflect the happenings in a kitchen and even the color of the cabinetry.
12. ELECTRIC COOKTOP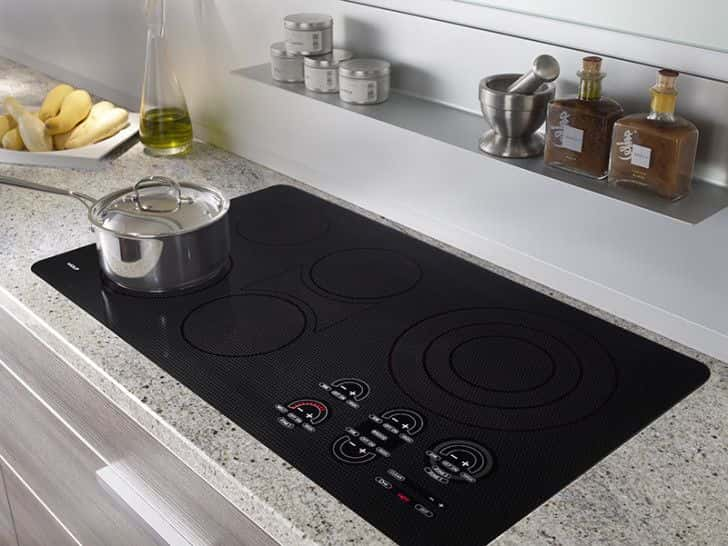 Have you ever wondered how a gas cooktop takes up much space on kitchen counters? Just replacing it with an electric cooktop that doubles up as a countertop can automatically increase the space. 
Tiny kitchens and small apartments offer a great canvas to test your design and decor skills. If you take it on as a project, there is much you can do and many options you can explore. For design ideas on small kitchens, reach out to us at HomeLane.