Wire cables can seem so very sneaky and having a mind of their own. At first, they make an appearance at random places around the house – a cable cord here, another computer cord there, wires dangling behind speakers and more. Gradually they begin to proliferate all over, behind furniture, bunched up on tables and even snaking all across the floor.
Controlling these wires and keeping them together must be done from the start. Finding dedicated storage spots for headphone wires, power plugs and electric accessories is a task in itself. In case these have become difficult to handle, here are top 10 wire management hacks that will help keep wires, cords and other cables all under control.
1. Identify Plugs with DIY Labels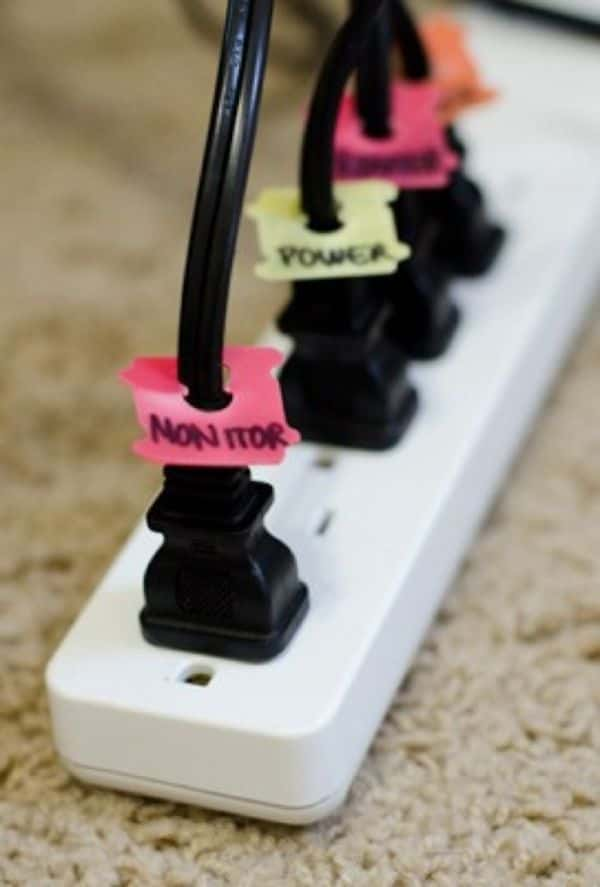 Crawling around on your knees finding the snaking lines of wires that emerge from plugs can be a right pain, and also results in enormous waste of time. This can be made easier by designing DIY labels or stickers and sticking them on plugs for better identification.
2. Pack Lengthy Cords into a DIY Wrapper
If thin wires of headphones and smaller gadgets are getting themselves entangled in your bag, a great idea would be to wrap them in a soft circular shortener. This is similar to cellotapes with dispensors. Either re-purpose a solder wick spool and fill it with the cord (as in the image) or wrap them on a discarded credit card.
3. Toilet Tissue Roll Holder
Toilet rolls have many other inventive uses apart from holding together toilet paper. Instead of thrashing used rolls, use them to to keep track of all long cords. Labeling them makes them easier to find.
4. Zip Tie Wire Clusters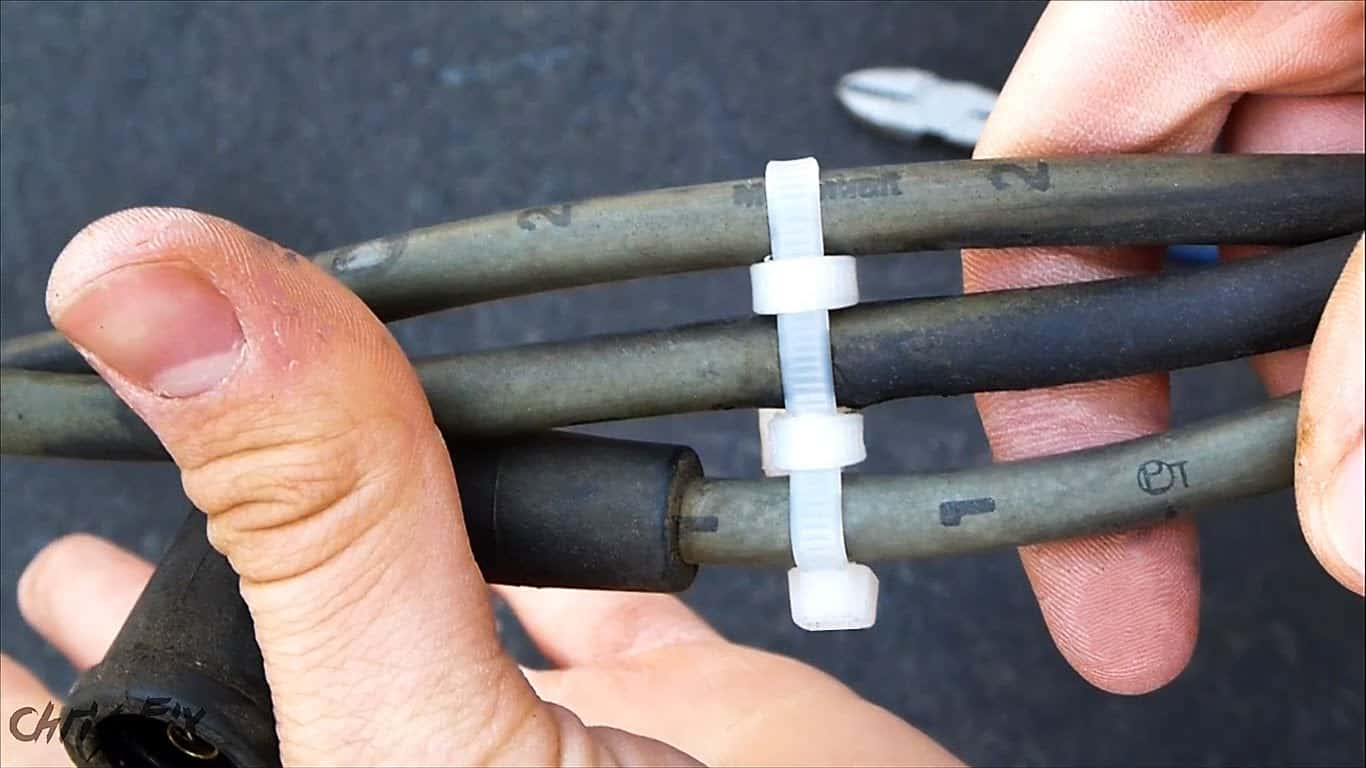 Cords underneath TV and over music systems, get moved around quite a bit. The best way to organize them would be zip ties (the kind used to zip-close shopping bags at supermarkets). Putting them neatly together and connecting them to a wall mount surge protector keeps all electronics and cables confined to one space.
5. Shoebox Charging Station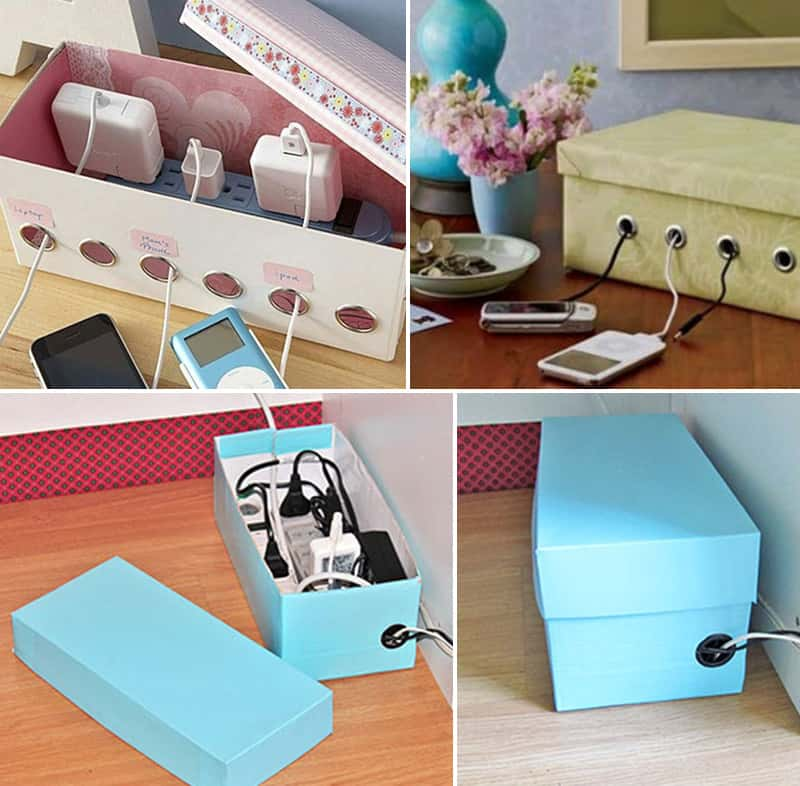 Keeping unsightly charging stations around the house can be such an eyesore. Placing power strips within discarded shoeboxes, colorfully designed with big holes for cords and wires makes them more manageable.
6. Infuse Creativity into Cords
Colorful cords can be turned into beautiful, bold design statements by loosely braiding them together. This DIY hack works well for cords belonging to one piece of equipment. Care should be taken not to do it too tightly which might tear or crack the casing.
7. Hide TV Wires
TV wires sticking out from behind the box make the whole setup look unattractive. Instead of making temporary arrangements, building a faux wall with bamboo, corralling them behind curtains or making a cool DIY showpiece hiding them, will make them appear almost invisible.
8. Jute Wrap Extension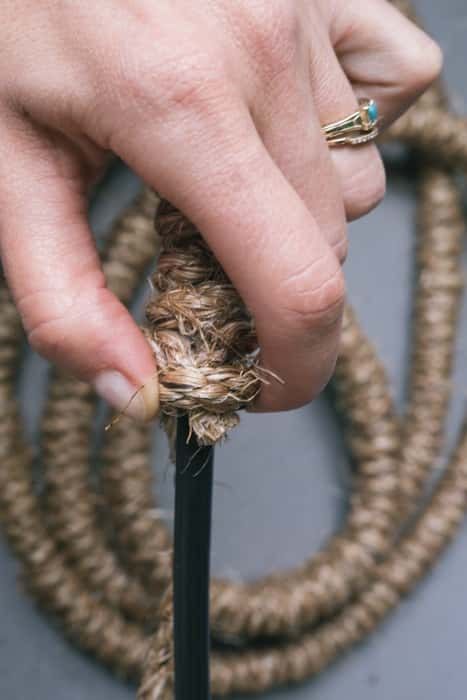 A wonderful, creative way to store wires or extension cords is to wrap them all together entwined in jute. Its rustic look, neutral texture blends into the background space.
9. Stapling Cords Under Desks
Rather than leaving free flowing wires, stapling them underneath tables makes the space look clean and spartan.
10. Mount Gadgets to a Pegboard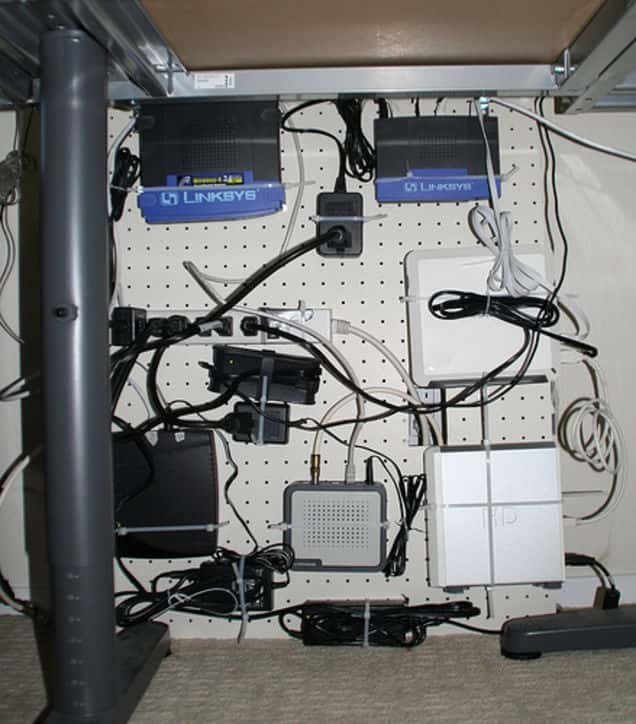 Creating a custom mount pegboard for gadgets, pheripherals and cords and stowing it away from view keeps, all the electronics together and easily identifiable. This is one of the neatest DIY organizing solution which might be time consuming but well worth the effort.
Cords and wires are known to cause many accidents by the very fact that they snake all around the house. Children and especially babies must be kept away from them, for the electrical/ short circuit dangers that they present.
These wire hacks can take away much of your woes, giving you a cleaner, clutter-free home to live in.