A flooring style straight out of your grandparents' kitchen, terrazzo—or your humble mosaic—has made a come-back to the interior designer's fashion palette, and how! With chips of marble, quartz or granite on a base of concrete that has been smoothened out and polished, this speckled surface is now a popular home décor trend.
Why is Terrazzo becoming popular in home interiors?
Ever since Pinterest listed Terrazzo on its 2018 Trends Report, this versatile flooring material has, well, literally 'floored' us! The origins of this lovely flooring finish go as far back to Venice, Italy of the 1400's. Old Italian homes had intricately patterned flooring in terrazzo, which has in many cases withstood the test of time and looks gorgeous even today. Terrazzo was a popular trend in Indian homes of the 70's and 80's, and has recently become a happening idea again.
However it is styled, it complements many different décor themes ranging from minimalistic to explosive -adding to the popularity of style. It has a virtually unlimited range of colour options, both for the chips and the substrate, and can be custom created to match any colour palette. It is also an extraordinarily durable surface as it is completely waterproof, non-porous and hard-wearing.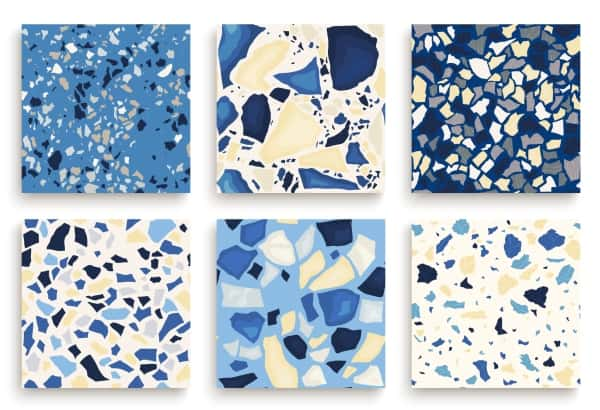 What are the different ways to use Terrazzo in home interiors? Please explain in detail.
What most people do not know is that although terrazzo is available as tiles, it can also be cast in-situ. This is through a method in which the concrete is poured directly on a surface where the granite or marble chips have already been laid out. It can be smoothened out to form a seamless finish that moulds itself around edges and curves, and looks pretty neat when finished.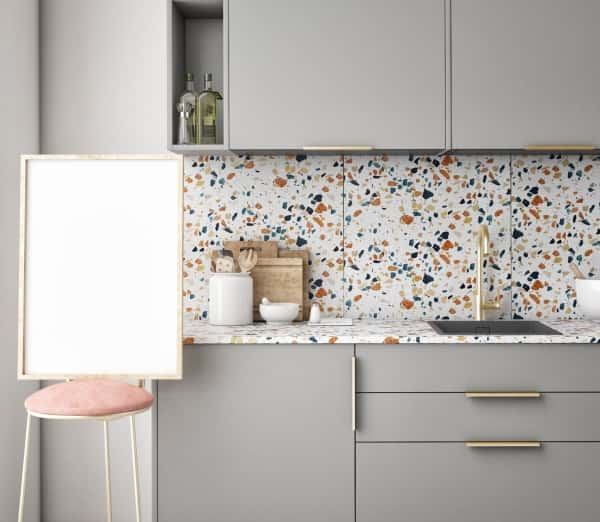 Using this technique, it can be used on kitchen or breakfast counters, table tops, kitchen splashbacks and bathroom walls. It can even be used as the bathroom or kitchen sink itself!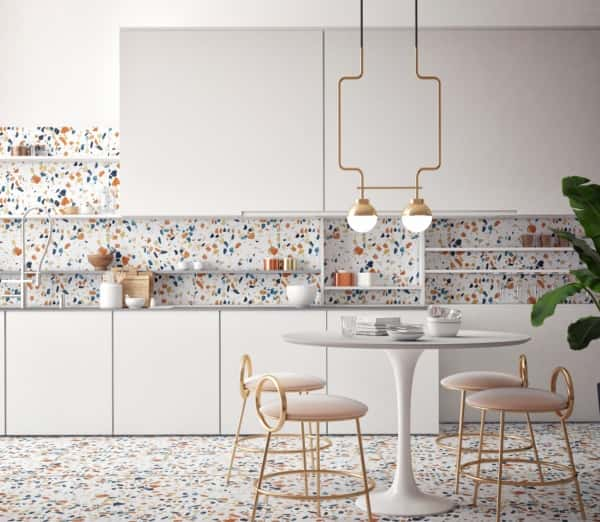 Product designers have also experimented with terrazzo in quite a few ways. You can find Scandinavian prototypes of terrazzo flower pots, creatively designed stools with speckled seats, even table coasters and flower vases in flowing patterns fashioned out of this material. Given its versatility, it's easy to imagine terrazzo boxes, paper weights, lamp-shades, wall murals with different colours of terrazzo or broken tiles creating patterns. The sky is the limit to your creativity.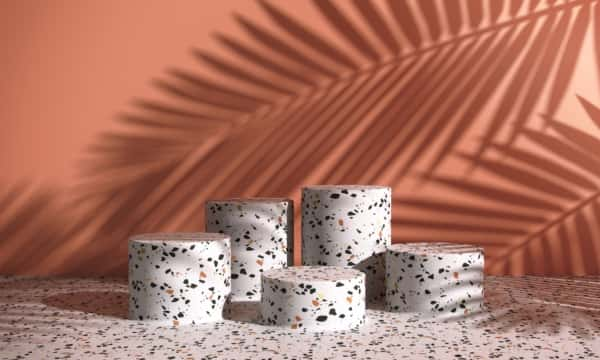 What are the do's and don'ts while using Terrazzo in home interiors?
It is possible to go overboard with terrazzo, but do remember that too much of this material can make your interior look boring and monotonous. It is always better to have a blend of terrazzo against a plain surface, making sure that the colours match. Try a burst of colours against a neutral surface, or vice versa!
Any tips while using Terrazzo in home interiors.
While terrazzo is seamless when cast in-situ, the tiles have a rough edge and chip easily when they are not handled with care. The edges of tiles should be lined up perfectly while laying, and any pits should be carefully filled so that further chipping does not happen.
Anything else on Terrazzo in home interiors?
Terrazzo is one of the most versatile finishes that we have ever worked with in the interior design space. If you are designing your home, you can totally unleash your creativity with this material; you can choose to go subtle, or go wild, as you wish! Use an innovative blend of colours and aggregates, and you can mix and match almost any combination of colours or styles.