Tables in the living room have always been functional. Today, with the kind of entertaining we do, and the emphasis on the decor, coffee tables have come to achieve much significance. Here are 7 creative ways of styling your decor table.
Decorating homes is often a fun chore and while you may be running out of spaces to do the same, a coffee table makes for a great alternative. Whether you are into tech, a book nerd or have a green thumb, you can flaunt your interests while brightening up the entire living space.
1. BOOKS
Among many other things that can be placed on coffee tables, books perhaps can best be described as the 'clever man's collectibles'. Not only do they look good and showcase your reading preferences, but also act as a trigger for conversation and give guests something to browse through while they wait.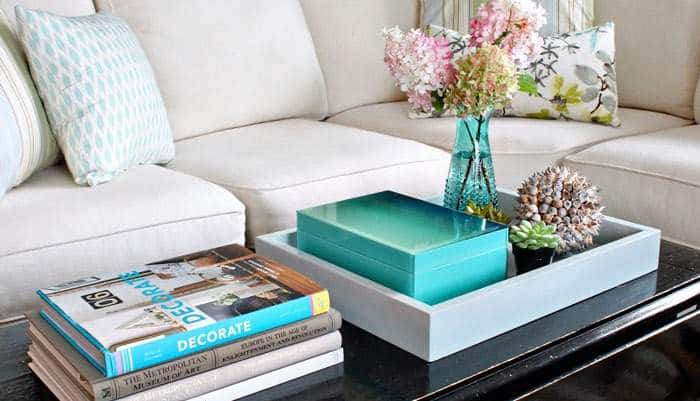 2. PLANTS
Small houseplants placed on the coffee table preferably on a tray, add just the right touch of green to the living room. Besides breaking the monotony and rigidness, it also manages to get the outdoors inside the home.
3. FOUND OBJECTS
It isn't unusual for many of us to collect random objects from outside, wherever we see them. An interesting stone, sea shells from our travels, an attractive vase can all be used as display pieces. They add a touch of rustic and organic look to the table display.
4. COLOR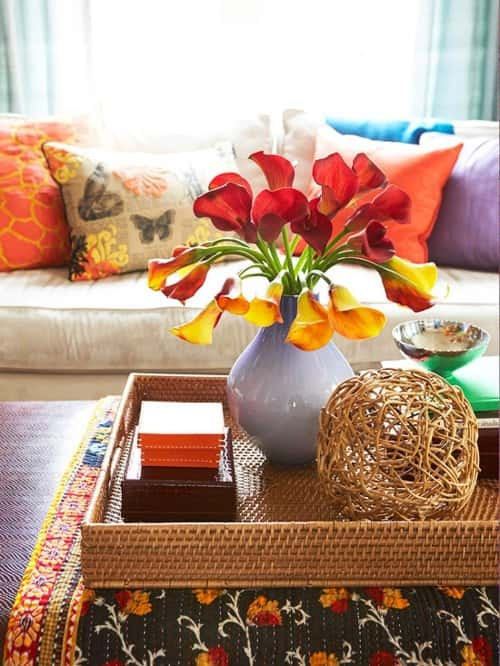 When it comes to coffee tables, playing safe must never be an option. Rather than placing objects of a color similar to that of the room, try contrasts and vivid colors in trays or decor pieces. Source pieces that match the room style but contrast with colors. If pastel blue is your living room color, try trays in red or a statue in pink.
5. SCULPTURES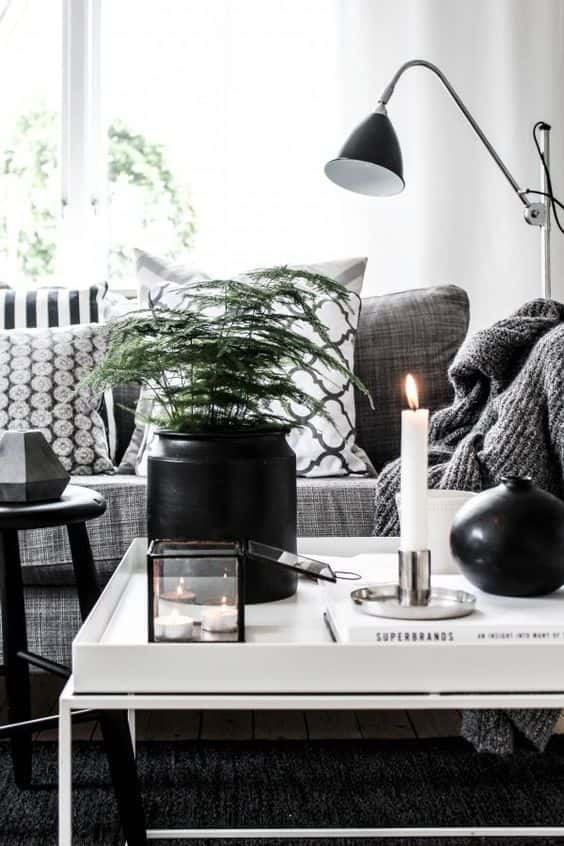 If you thought sculptures were to be placed only within showcases, then you aren't quite right. Small sculptures look beautiful on coffee tables. They add a touch of elegance and beauty while breaking the staidness of the living space. Care must be taken when placing sculptures on tables especially with kids around.
6. MONOCHROME
If a stark, neutral look is the theme you are looking for, then the coffee table can be outfitted with a collection of monochromatic objects. Rather than using an all-white or all-black look, try a combination of black, whites or textured greys for an interesting look that doesn't border on boring.
7. POP ART
If pop art looks perfect on walls, then you have never tried it as decor pieces in your living space. With bright colors, neon hues and quirky being the statement of choice today, curios, collectibles and objects in these colors not just add a spot of liveliness but a point of interest as well.
Styling your coffee table is an art in itself, and one that when done well not just changes the look of the overall living space but elicits signs of approval from guests as well. Do you have any suggestion on wonderful and creative ways to style your coffee table? Do share them with us and we will put them up on the blog.