The bedroom is haven that helps you unwind from the stress of a hectic day. A space of peace and calm that helps your recharge your flagging energy. Most home interior design tips suggest incorporating some elements of Oriental or Asian style of decor into your bedroom, to achieve tranquillity. Here are a few tips to incorporate Oriental style home interior design ideas in your bedroom.
Bedroom walls – In Asian style bedroom décor, neutral colours are used to paint the walls. Alternatively, you could cover your walls in Chinoiserie wallpaper. Chinoiserie is a type of hand-painted silk wallpaper that depicts images of landscapes and legends from the Orient. Wall art is another way to incorporate Asian style in your home interior design scheme. However, take care not to clutter the wall with these, as the essence of this look is minimalism.
The bed – Your bed is the single most important element in your bedroom. According to ancient Eastern philosophies like Zen and Feng Shui in relation to home interior design, the bed has an intricate and intimate connection with the flow of energy in your body. Following the rules of these philosophies, most home interior designs in Asian style come with bedrooms that have low beds with sturdy and high headboards.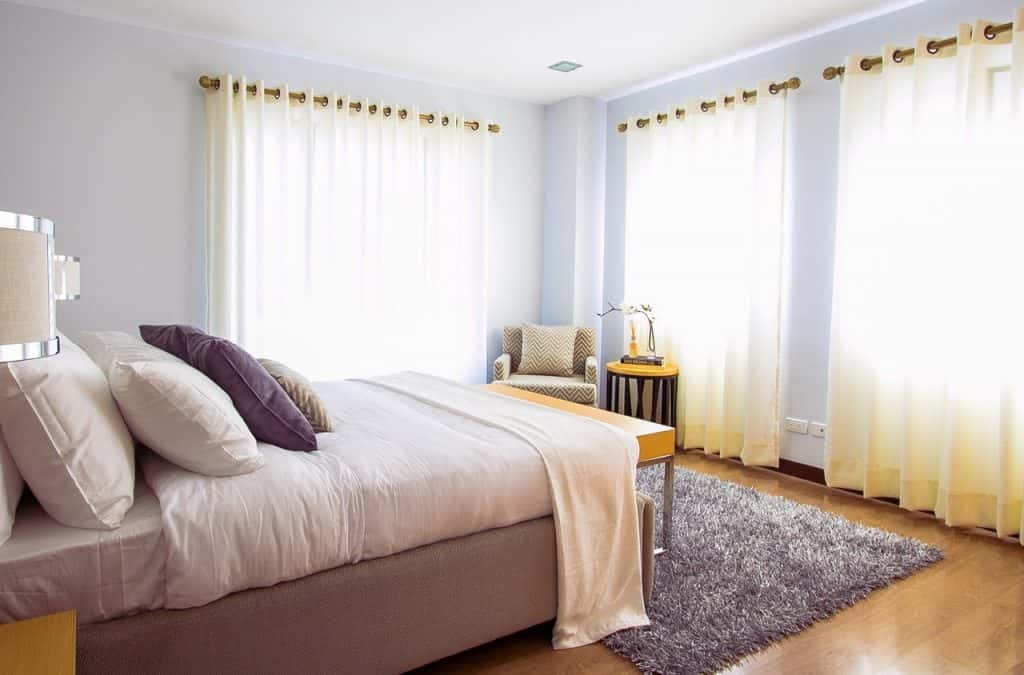 The beds are usually minimalistic in design, made of solid wood at a low height, and are painted in neutral colours. Tatami platform beds are a popular choice amongst home interior design experts who favour Oriental style bedroom furniture.
Other furniture – Most Asian style bedrooms are furnished sparsely but elegantly. More often than not, you would find only the bed and wardrobes when it comes to Asian style home interior design. Wardrobes in such a room are preferred in solid wood and neutral tones to match the bed. Usually, the wardrobes have an even number of doors like two, four or six. If you want to bring in other pieces of furniture, ensure that they match your bed and maintain the balance and harmony. If you are placing night-stands, choose them carefully to match the height of your bed and place them on either side of the bed. You can incorporate a dresser into the home interior design, as long as you place it half-way along a wall instead of in a corner.
Furnishing – Silk is the material of choice for linen in Asian style bedroom interior decoration. You can use bed sheets, pillow covers and cushion covers in silk or soft cotton in light shades to complement or contrast the colour of your bed. The same principle needs to be followed for curtains and rugs. You may also choose to replace your curtains with bamboo blinds or Shoji screens.
Lighting – Recessed lighting is considered the most suitable for Asian design style. Orb lights and rice paper lamps bring the finesse to your bedroom with their warmth and glow.
Accents – This style of home interior design keeps accents to the minimum and creates an extremely tidy look. However, when accents are used, designers strive to bring in elements from nature like a Bonsai plant, a small fountain, smooth stones or Bamboo plants. Sometimes other elements from Eastern cultures like a statue of Buddha or an eastern flower vase are also used. But this style of home interior design stresses on the fact that all accents look like an integral part of the décor and nothing stands out.
Oriental style bedrooms are elegant and minimalist at the same time. These home interior design tips can help you set up a bedroom which is calm and soothing, not only to your eyes but also for your body and soul.