Designing a kitchen layout is an art and science. Because a kitchen is highly functional, every nook and corner has to be optimised and every surface crafted as per specific measurements. If you're designing your kitchen from scratch, you will do well to know these 6 key measurements and then adjust them as per your height and requirements.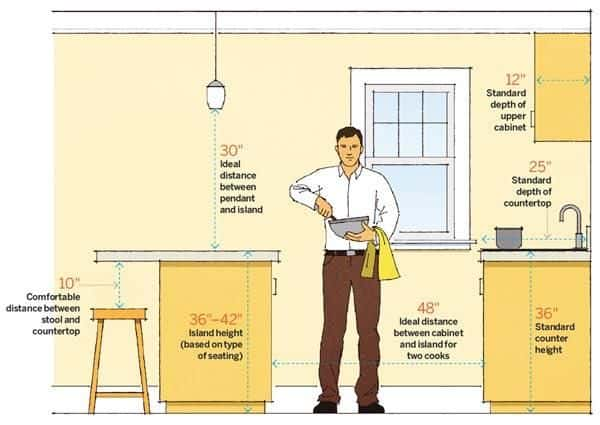 There are a standard set of measurements that most kitchens are built with. Often in apartments, these measurements are fixed and homeowners don't have much say in them, simply because it is assumed that most people are of average height and will adjust accordingly.
However it has been proven in medicine that prolonged usage of bad ergonomic design not just has a significant strain on the body in the course of time, but the accumulated stress can have serious, irreversible effects as well as put unnatural stress on the bones and muscles.
Keep in mind the below measurements and work with your kitchen designer to design the cooking space that is right for you.
1. KITCHEN COUNTER HEIGHT
Every kitchen counter is designed in a standard height of 34″ – 36″. This, however, isn't fixed and can vary based on your size, height and preferences. This height of a comfortable workspace is calculated by measuring down from the tip of your elbow. 
Counters that are too high or too low can affect the way you work since cooking involves standing for prolonged periods of time.
2. KITCHEN COUNTER DEPTH
The standard depth of the kitchen counter is 24″. This is just sufficient to place utensils and other items that are easily accessible and don't put much strain on the back. This measurement can vary based on your size, backsplash details, appliance depth and cabinetry.
3. UPPER CABINET COUNTER CLEARANCE
The distance between the countertop and the upper cabinets should be no more than 15″ – 20″. If the upper cabinets are lower, they make standing difficult and impede work. If the cabinets are higher, it will be very difficult for you to reach the upper shelves.
4. UPPER CABINET DEPTH
Upper cabinets are built to be smaller than the lower cabinets, and as such a cabinet depth of 12″ – 15″ is most ideal. Making these cabinets just out, will affect the way you move around and also cause you injury in case you bang your head.
5. MOVEMENT SPACE
Whether your kitchen has a layout that is L-shaped, U-shaped or an island, it is important to have enough space for yours and another person's movement. The circulation space between two adjacent countertops must be at least 48″. Although this is often not the case, especially in small kitchens, it is important for air to circulate. Creating space for a movement that is > 64″ is also not required. This makes the kitchen too big and less efficient.  
6. KITCHEN TRIANGLE
We have spoken in detail of the most crucial measurement in kitchens, the kitchen triangle. This is the triangle bound by the stovetop, chimney and wash basin. Summarising it, the sum of all three sides must not exceed 276″. To know the ideal measurements and how crucial they are, read more here.
7. SIDE COUNTER/ FRIDGE SPACE
It is important to keep at least a 12″ space on either side of your stovetop on the counter. The same applies to either side of a refrigerator, especially the open side of the door.
8. COUNTERTOP STOOL SPACE
Most kitchens nowadays have a breakfast counter or place some kind of seating arrangement for a quick meal or entertainment. It must be remembered that the ideal gap between the stool and the counter space should be 10″ – 12″. This allows legs to be tucked in comfortably and moved around.
SMALL KITCHENS
In small kitchens, none of the above dimensions can be applied. The smallest kitchens have about 30″ between counters and nil space on either side of the fridge. In small kitchens, space is created only when absolutely required. The dimensions of height however still apply. 
Have we answered your queries about kitchen measurements? Is there anything specific you'd like to know? 
Then reach out to us at HomeLane and let our kitchen designer answer them for you.