Marble personifies elegance, understatement and fluidity. Marble Countertops aren't that much of hassle to look after, especially when cared for regularly. Their maintenance can give them a long and spotless life.
Marble personifies elegance, understatement and fluidity. There is a phrase that emphasizes how 'marble means movement'. This is nothing but the visual impression of 'flow', created by the veining effect of this carbonate stone.
Although people choose marble as their first option in designing kitchen countertops, they have major concerns while maintaining and cleaning this porous surface, especially after corrosion and staining.
Our kitchen designers however, say otherwise. Marble Countertops aren't that much of hassle to look after, especially when cared for regularly. Below are a few things to keep in mind during marble countertop maintenance;
REGULAR MAINTENANCE 
When it comes to marble, what people have to look for is not necessarily staining, but etching. Etches are the corrosion or grooves that set into the stone, when it comes in contact with acids.
Alcohol, lemon juice and tomato sauce are all very acidic, and when they spill, stain or splash on the stone, tend to gradually eat it up. If this isn't wiped away immediately, the acid reacts with the soft stone, corroding it and removing the calcium carbonate, creating permanent markings that look like dull dark spots. The lighter the marble, the more noticeable is the etching.
AVOID ACID CLEANERS 
Most often in our homes, we use a single cleaning agent to wipe over several surfaces; countertops, cabinets, etc. When it comes to marble, it is important to use cleaning agents that are not acidic, to avoid them permanently damaging the stone. It is advisable to avoid lemon, vinegar, bleach or any other such cleaning agents. Just mild soap and water is all that is required.
Marble is available in 2 varieties; Polished and Honed. Polished is glossy marble, reflects light and displays colors and veins. Honed marble on the other hand is satiny, smooth, has less light reflection and is textured. The honed variety is commonly used in floors, on stairs and other areas with high foot traffic. Using a honed piece of marble for the countertop usually hides etches or stains, because the marble already comes with mild etchings. But the porosity also makes it stain easily.
Both varieties have their pros and cons, and they should be chosen based on the kind of work involved and susceptibility to damage. In Indian kitchens, there are more chances of honed marble getting stained, than gloss marble getting etched.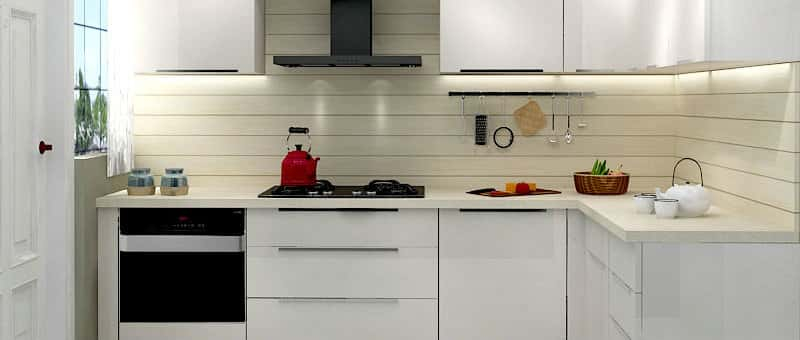 VISIBLE AND INVISIBLE SPACES
Marble countertops on islands or visible portions of a kitchen are more prone to staining. When they catch light, they look really bad and can spoil the look of the space. Placing table mats or table cloths over such areas may help reduce damage to a large extent.
USING SEALANTS
Applying spray sealants atleast once a month, is a great way to reduce or delay the damage of continuous use. Sealants buy time, lengthen the life of marble, seal it from the outside so food or products won't penetrate.
If for example, tomato sauce is spilled on a marble counter, it is bound to stain no matter what. But if you happen to leave it for a few minutes longer with a sealant, the staining will not happen or may occur mildly. Sealant acts like a barrier.
STAINING
It is natural for marble to get stained, sometimes despite our best efforts. Here are a few tried and tested solutions to minimize the damage;
Water spots – Clean with steel wool and soapy water
Oil based Stains (cooking oil, grease, cosmetics) – Clean gently with household detergent, ammonia or hydrogen peroxide.
Spice Stains (Haldi, Tamarind) – Apply a paste of baking soda and water on the stain, and keep for 30 minutes. Wipe with cloth and water.
Rust Stains – These stains are very difficult to remove. If they are fresh, the stains go away with hydrogen peroxide and ammonia.
ETCHING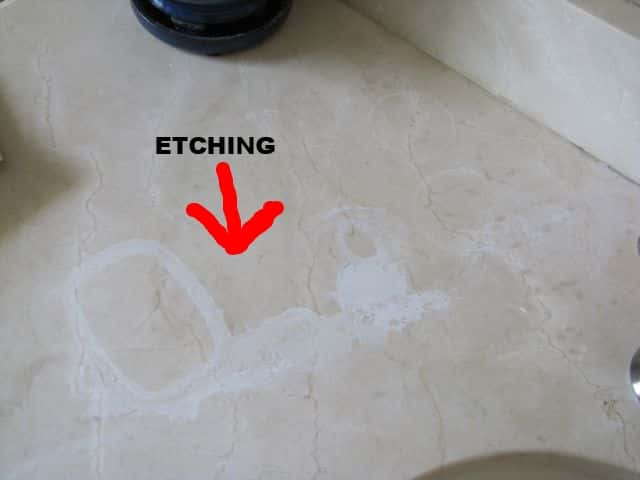 Some food substances like juice, fruit, milk and alcohol, cause both staining and etching. It is possible to remove the stain and fill the etch marks, by sprinkling marble polish powder, wetting it with water and rubbing it with a damp cloth or buffing pad till the etching disappears.
If everything that you do fails, you can hire a professional to remove the stain including the sealant.