The Kitchen Work Triangle is an essential part of kitchen design. This concept is used as a foundation to define an efficient kitchen layout.
A home kitchen has three primary tasks which are carried out between the Cooking Zone (hob, oven and microwave), the Washing Zone (the sink) and the Storage Zone (cupboards, fridge and freezer). These three crucial focal points and the imaginary lines that form their boundaries, make up what kitchen experts call the Kitchen Work Triangle.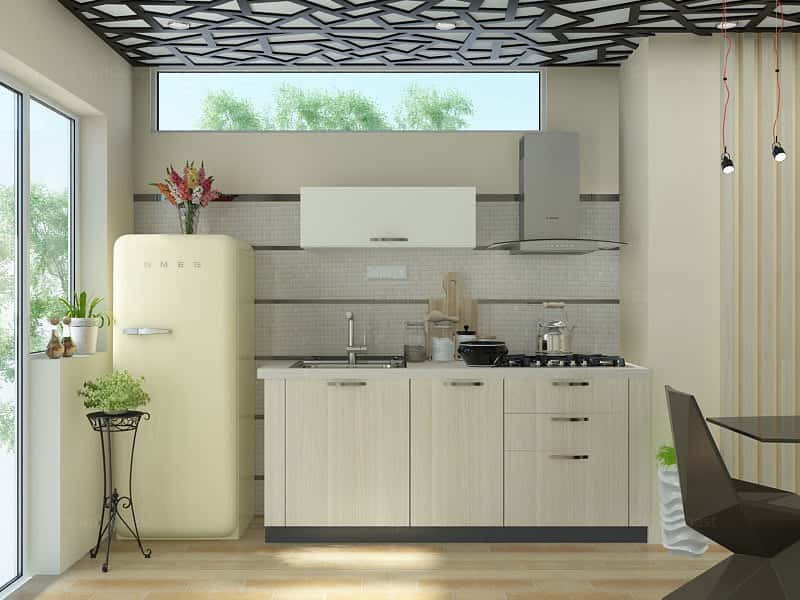 Since the kitchen triangle is where most of the cooking tasks are done daily, getting the balance right during construction, is important. Ideally, none should be more than two or three steps away from each other. As a general rule, the distance between the three areas of the kitchen work triangle should be no less than 4.5 feet and no larger than 8.5 feet. If the distance is too small, the kitchen can feel cramped, and if too large, it makes the cooking process tedious. Keeping the right distance cuts down on wasted steps and makes the kitchen easy to use and efficient.
Factors like the layout, appliance size, vastu, etc. can affect the the overall design. In straight kitchens for example, it is geometrically impossible to achieve a true triangle — but efficiency can still be achieved by configuring the three zones, and the distance between them.
Planning your kitchen, always begins with your sink, hob and oven. Slot these in and make sure you're happy with how they relate to each other. The fridge and freezer are more flexible appliances, which can be fitted in later.