Kitchen Countertops are horizontal flat surfaces, used for food preparations (cutting/washing/storing), installed on or supported by lower cabinets in a kitchen. The countertop surface is positioned at an ergonomic height for ease of use, without putting the user under any discomfort.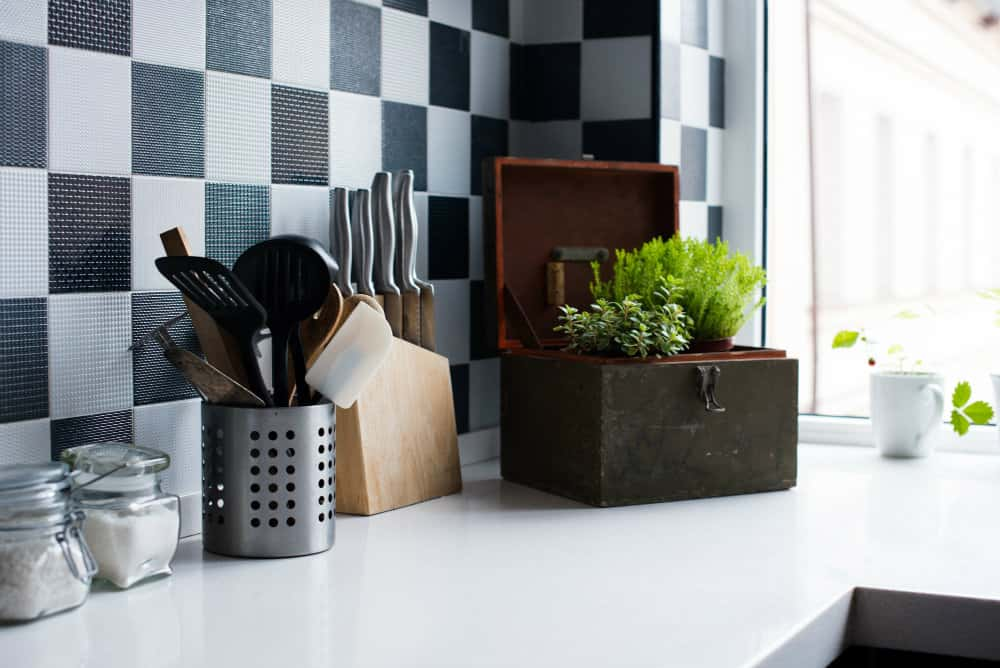 Kitchen countertops are constructed from various materials, depending on specific attributes such as color, design,  functionality, durability, and visual aesthetics. They can either have built-in appliances, or fitted with accessories based on their intended use.
Contemporary modular kitchens have an assembled countertop option, unless the kitchen is single-walled where the countertop is then continuous. Most kitchen countertops, have an 'unfitted' kitchen design style, where multiple detached countertop surfaces, are mounted on base support structures or lower cabinet themselves.
When installed on standard Indian base-unit cabinets, countertops are generally 2 feet or 60 centimeters (600mm) in depth (front to back), designed with a slight projection (overhang) in the front. This size makes it ideal to reach across the back of the platform, while protecting the front of the base cabinets from any spillage.
Counter top to floor length of most modular kitchens are standard, measuring 80 centimeters (800mm), with an additional 20-40mm of the countertop thickness, depending on the kind of material used.
Countertops can be installed at other places too, including isolated islands, specialized kitchen extensions such as baking nooks, dining table, bars and table tops.
GENERAL FEATURES :
Kitchen Countertops are a standard part of most Modular Kitchens

They are available in a fixed width and floor height size, but vary in shape comprising of individual assembled pieces that can be fitted together as per the kitchen layout

Countertops have a slight overhang (additional length) on the front, which allows for convenient movement and access to objects all over the counter, as well as prevents stains and spillage from reaching the front surface of lower cabinets

Countertops can be installed at other places too, including free-standing islands, separate work nooks, tables and bars.

They can be made from a variety of materials which gives them different thickness and shape.

Countertops can be tailored and cut to accommodate sinks, hobs and cooking ranges as well as accessories like dispensers, cutting boards and integrated drain holes.

Their costing varies on the kind of material used and amount of it required based on the layout and design.

Countertop durability and life depends to a large extent on the kind of material used.