What is a kitchen, without the bits and pieces that make what it is? Cabinets and kitchen accessories are the framework that holds the everything together.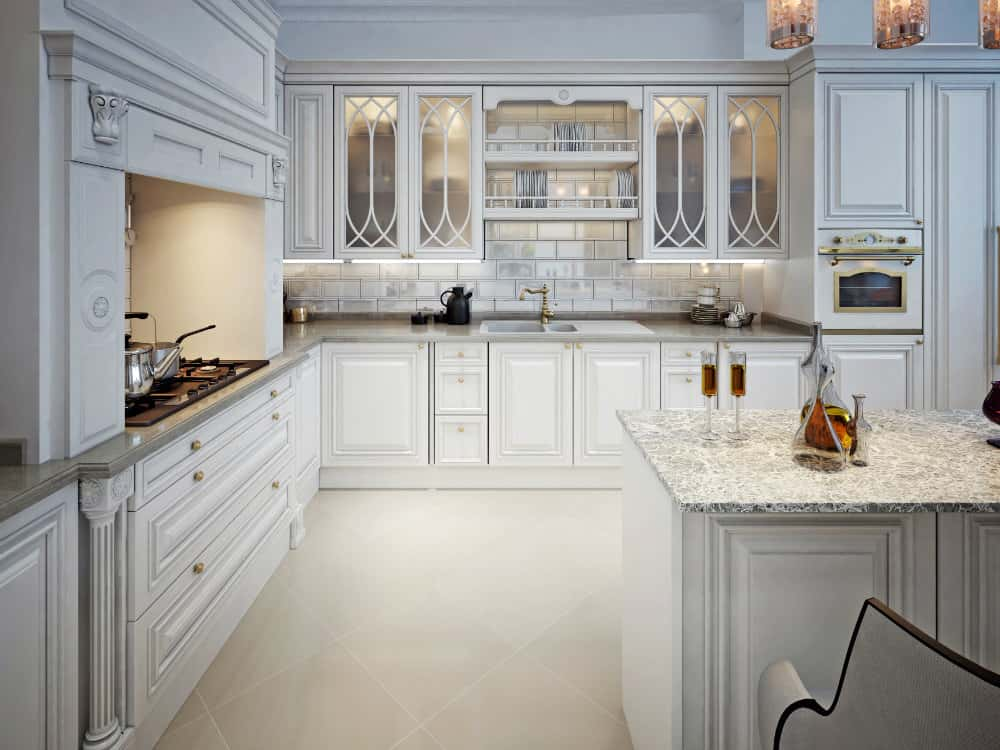 Modular Kitchens in their entirety are beautifully designed pieces that maximize utility without compromising on design and looks. As important as the final product is, it is essential to know the accessories that go into making a modular kitchen user-friendly and versatile.
Before you decide to buy modular kitchen accessories, it is a good idea to find out a little more about them, and below is a brief writeup about what they are;
BASE UNITS
Modular kitchens usually come with at least 2 base units, one for your oven and one with drawers and shelf space, which you can use as a countertop for working in the kitchen. The base units are designed to accommodate the hob, which is basically your cooktop.
WALL UNITS
These are placed on the wall and adjusted according to your height and convenience so that your stored utensils and jars are kept within easy reach.
Wall and floor tiles
Most kitchens are equipped with ceramic tiles, although wooden flooring and laminates are increasingly becoming more popular.
Worktop
This is where you do the work; the chopping, grinding, mixing and prepping of food. It's a good idea to ensure that you choose a water-proof worktop. Read more about kitchen counter tops here.
KITCHEN SHELVES AND ACCESSORIES
These can be made from various types of material such as durable glass or wire. Stainless steel as materials as used in BETH kitchens, is most preferred as it is durable as well as stylish.
Baskets
These can be of several types although the plain basket is the most commonly used variety. Other types include the cup and saucer basket, the utensils basket, the plate basket, the vegetable basket and for cutleries. These are usually made of wire or stainless steel. Baskets give you extra storage space in the kitchen and can be fitted inside the modular kitchen cabinets. They come in standard sizes and can be customized as well.
Baskets are very convenient for daily use as they come with drip and dry facilities; some of these come with extra compartments for added convenience and ensure all your utensils and crockery are neatly organized. They are also available in several shapes and sizes and and can accommodate small and large utensils and jars inside, depending on the size and design.
Pantry Units
Pantry is a sturdy, large unit, usually used in professional establishments such as hotels and restaurants. These are designed to fit inside large cabinets. Pantry units come with compartments to make organization easier.
Kitchen Holders 
Items like round bin holders, napkin and foil holders, wine glass holders and spoon holders make life easier in the kitchen. These help keep kitchen accessories within easy reach.
Pull-out shelves
These can be used to store various items, ranging from large containers to small bottles of syrup; everything within easy reach without making the kitchen look messy and cluttered.
Tall units
These are regularly used in professional establishments but you can use them in your home if you have tall storage cupboards or free standing kitchen cabinets. Each unit comes with multiple shelves and some can be customized according to your preferences. Tall kitchen units are a great way to store a large number of items even in a small modular kitchen.
Kitchen Trolly 
These are durable and larger in size to accommodate large and heavy containers of grain etc. You could choose from a variety of kitchen trolley designs and sizes, all of which can be fitted inside cabinets and/or kept outside separately.
Carousel
These are usually placed in the corner or linking the two sides of an L-shaped kitchen (as in the pic), ensuring that every inch of your kitchen is properly utilized.
The simplest way to store your utensils, these come in various shapes and sizes and can be customized to fit inside cabinets. There are many other accessories besides the above, which are a part of modular kitchens and help in keeping them clean, organized and with maximum utilization of space. Choosing the right kitchen to go with a home, is much more than just about the aesthetics.