An elegant pantry unit with an edge, the Pullout and Swing Pantry Unit is available with brands such as Hettich and Kesseböhmer. A swing-type unit is highly convenient and easy to use.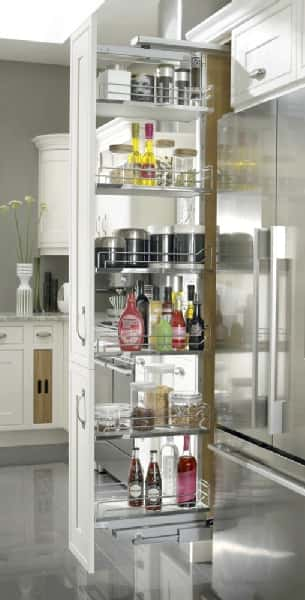 Designed like a regular pull-out pantry unit, what differentiates it from another pantry unit, is the ability to turn the complete frame through 90 degree to either right or left. This allows the pull-out system to open like a shelf, at right angles to the body. Once used, it can be swung back into the initial position with the frame sliding smoothly into the cabinet.
Made in plastic coated steel, this pantry unit features an adjustable centre frame fitted with front bracket/rails. The adjustable height ensures convenience of usage and the integral silent system damping affords a perfect closure. The unit is a great addition to contemporary kitchens affording plenty of storage for spices, foods, groceries and other kitchen utensils.
FEATURES:
Convenience of a modular concept.

Dimensions of 450X560X2080

A beautiful combination of convenience, practicality and superior design

Affords plenty of storage

A central plastic-coated steel frame with adjustable height is fitted with front and back brackets/ rails

The frame can be swung right or left, and the complete frame turned through 90 degrees.
This kind of pantry unit is perfect for small homes and apartments where storage is a problem. The ability to pull out and swivel makes this pantry unit very convenient, easily accessible and versatile for modern, contemporary kitchens.