Whether you are creating a new kitchen space, renovating it or re-decorating it, consider its impact on every aspect of your life before jumping in. These practical and easy to do kitchen décor tips can transform your cooking space from the mundane to the eclectic.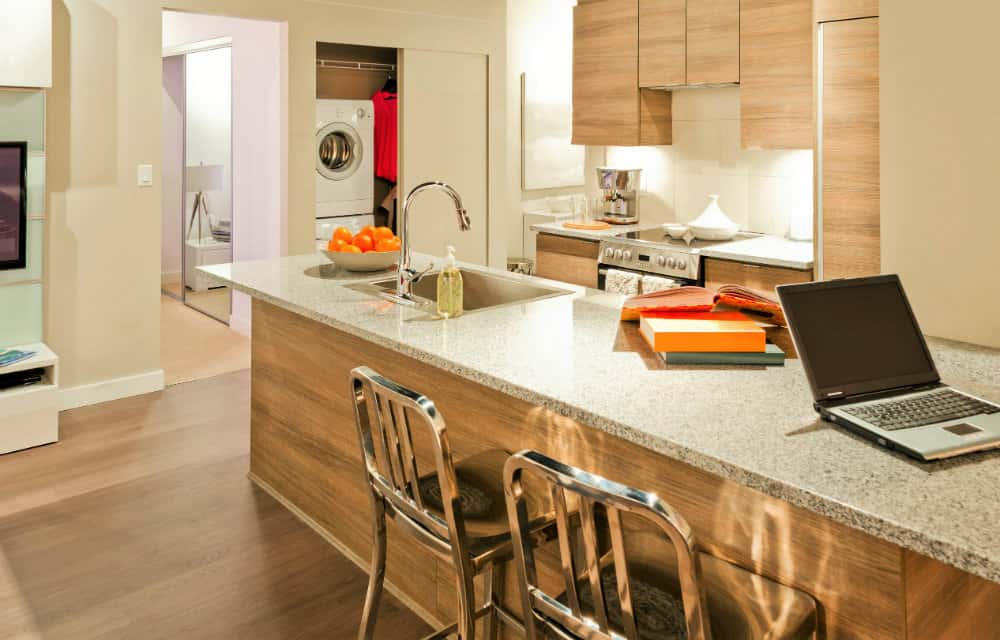 More than just a room for cooking and feeding the family, kitchens are quickly becoming places where most of the action in a home is taking place. From first thing in the morning, preparing and sharing breakfast with family, to entertaining guests at an evening do, the kitchen is home to all the major action. We live and work in our kitchens the entire day, and it is no wonder that the space is quickly becoming the heart of a home.
1. MUTED MONOTONY TO BREAK THE COLOR PALETTE
It is always assumed that kitchens should be bright and beautiful, featuring striking designs, contrast colors and vibrant hues. Colors are linked to appetite and one of the main reasons for their choice. However, many modern kitchens are minimalist and are designed in plain white or black colors to give the kitchens a versatile look.
Another alternative, is the use of black and white as a backsplash color while leaving the rest of the room in brighter hues. This monochromatic palette adds a uniqueness and personality to a room.
Although wall and bottom cabinets are kitchen standards, bringing an interesting perspective includes the addition of floating shelves to hold frequently used items like cups and saucers or display collectibles and accessories. Using pigeon hole shelves along one wall adds an interesting décor aspect as well as functions as a handy way for storage of kitchen linen, cutlery and serving plates. Lining the back of the shelf unit with wall paper adds a unique touch.
3. MERGING TWO ROOMS TOGETHER
With open kitchens becoming the norm, it is common to find the kitchen and living room or dining room sharing the same space. Making the most of this includes decorating it, so that it exudes your own unique style. From painting the connecting walls with bright and vibrant colors, to creating interesting nooks, to placing a large sized table at the centre of the rooms, which can be used for eating and entertaining, there are many ways that kitchens can be enhanced, making them vibrant, casual and cool.
4. SMALL KITCHENS MADE BIG ON STYLE
Compact kitchens as seen in most Indian homes and can be a challenge to decorate. There are limited options to play around with, and yet they can be worked out to bring out the homeowner's personality. Keeping a muted palette for the room, and highlighting a particular décor in bright colors, such as a cabinet in sunny yellow or crockery in neon green creates a focal point that takes the gaze away from the rest of the room. 
5. QUALITY APPLIANCES and ACCESSORIES
A kitchen cannot do without the basics, the appliances and accessories that make cooking fun and engaging. These however do not need to be staid and boring. Appliances like refrigerators, ovens and toasters can be bought to match the overall décor and color scheme, while cutlery, pans and other accessories can be stocked and arranged in such a way as to enhance it. Case in point, being the overhanging cooking pan range that can be placed over an island or surrounding the hob, adding an interesting perspective.
6. LIGHTING
Lighting when cleverly used can make the kitchen look like a work of art. Subtle lighting not just enhances the kitchen décor, but highlights certain key aspects as well as throws light on hidden nooks and corners. Pendant lights, focus lights and under the counter lighting can make even a boring kitchen seem eclectic.