Like everything else in life, our kitchens too need to be efficient and organised. Our previous posts talked about how to de-clutter and optimise storage in kitchens. Unfortunately, with most of us having to make do with an outdated kitchen design, this isn't always possible. In fact, small kitchen layout ideas that are available to the majority of people, just aren't conducive to making the most of the space you have. There is help at hand though, with the gradually growing availability of modern kitchen designs India has begun to catch up with Western countries and many brands now offer solutions to turn your cooking space into a modular kitchen. What's the best thing about this? Well, you don't necessarily have to shell out the big bucks.
What is a modular kitchen
Unlike a custom-built kitchen which is renovated or built on-site, a modular kitchen is made up of pre-made units. These units consist of floor cabinets, wall cabinets, counter tops and may include appliances like a stove, oven, microwave, refrigerator and chimney. These units can be put together much like puzzle pieces, but in whatever shape, design or pattern that works best for you. One of the most popular methods of putting these units together is in various L shaped modular kitchen designs, since these provide plenty of cabinet space, while still leaving room for appliances, such as your refrigerator.
Quick Tip: Keep in mind that the material you decide on and the number of units you choose will effect your end cost. Your modular kitchen designs and price are obviously inextricably linked.
You also have to think about the advantages and disadvantages of modular kitchen plans in your specific environment. Since modular kitchens are designed to optimise storage and convenience, they are ideal for small or studio apartments where there are space constraints. If you're working with a floor plan that doesn't boast a lot of space and need interior design ideas for small homes in India, there are many options when it comes to modular kitchens. A small modular kitchen is generally more efficient then an open plan kitchen design that uses free standing kitchen cabinets. Additionally, the cost of modular kitchen remodels is often considerably less than a custom built job would be, despite the fact that any work is calculated by kitchen remodel cost per square foot.
Choosing your modular kitchen
Depending on the layout of your kitchen area, and how you like to use your kitchen space, the modular kitchen design you choose can be in different types of styles; a single wall of cabinets and drawers, L-shaped or parallel, all are viable and popular options. The bigger manufacturing companies will usually have a modular kitchen designs catalogue for you to choose from, filled with kitchen cabinet designs and a slew of modular kitchen photos showing you the finished result. When it comes to the kitchen cabinet finishes you would like, these may differ based on colour, size or materials used.
Popular materials include wood and laminate for the cabinets and granite, aluminium and marble for the countertops. Stainless steel modular kitchen cabinets are also fairly popular these days, due to their ultra-modern look and functionality. In more classic kitchens, wooden kitchen cabinets are usually the norm.
Quick Tip: Before choosing your modular kitchen, make sure you have all your electrical sockets in place so you don't have a problem at the time of assembling.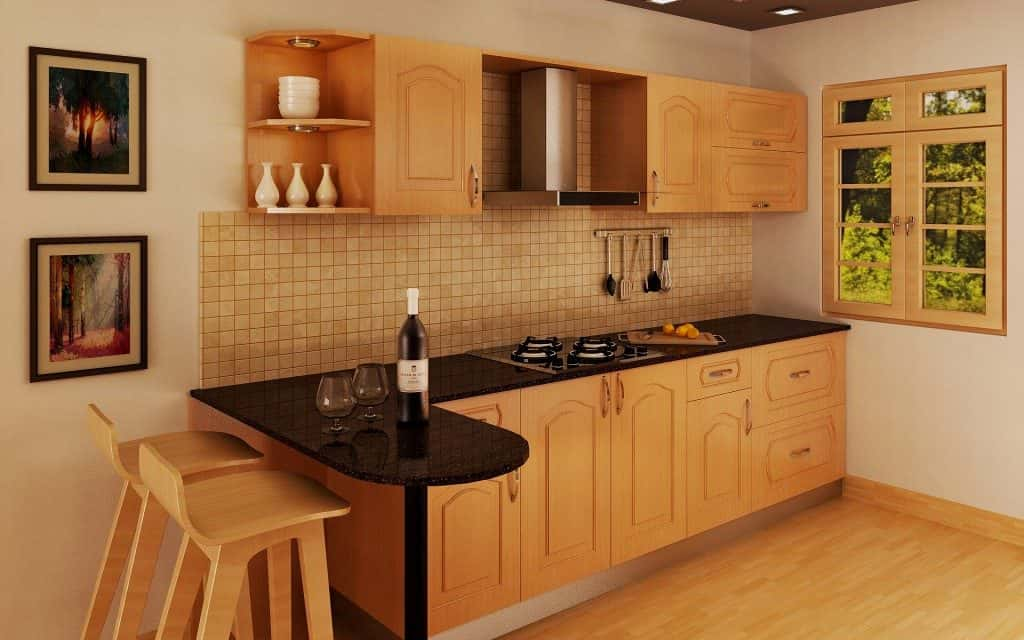 Perhaps the most important consideration when it comes to choosing the design for your modular kitchen is size. Those who are lucky enough to have a large space to work with can opt for more counter space and additional units like a dishwasher or double door fridge; although remember that you will still have to consider the cost of kitchen countertops per square foot, as this is how price is calculated.  Luckily, most manufacturers will also have a simple modular kitchen cost calculator, that can provide you with a breakdown and estimate of costing.
One of the greatest advantages of modular kitchen frameworks is how versatile they are – modular kitchen accessories allow you to play around with your space until it's perfectly suited to your needs. You could even choose additional sinks to segregate washing and draining. Another popular choice is the inclusion of an 'island' countertop. An island is usually an individual counter that's set in the middle of the kitchen, and not connected to your other countertops. Adding a few high-stools or chairs can convert the island into a dining area, but the real purpose it to give you a centralised platform to work on while cooking.
If you're working with a small area, it's important to optimise every inch of space. A single door fridge and an all-in-one unit comprising of a stove, grill and oven will cut down on your appliances. Tall cabinets (floor to ceiling) will give you a bigger storage area and dedicated alcoves for your toaster and microwave will ensure that you have more counter space. In order to make your small kitchen look bigger, opt for lighter shades in your cabinets and wall tiles to reflect light. Many modular kitchens also come with lighting features to brighten up your kitchen further.
Adapting to an Indian environment
While modular kitchens are already commonplace in America and Europe, and have steadily been gaining popularity in India, there are a couple of things you need to keep in mind when it comes to Indian modular kitchen designs. To ensure your kitchen matches an Indian lifestyle, this about how we use our kitchens.
There is some debate about what works best when it comes to interior design for kitchen in India, and much of this is to do with the fact that the diversity of our country; in economic status, culture and cuisines, means you can't make a blanket statement about what would work. None-the-less, there are a few things that should be taken into consideration.
Since many Indian dishes are slow cooked and involves using a lot of spices and oil, it's important to have a kitchen that's easy to clean and air out. Opt for granite countertops, as these are easy to wipe clean and are ideal for rolling out rotis – additionally, stone countertops are a fairly inexpensive option in India. Make sure that the wall between the upper and lower cabinets, especially the area over the stove, is tiled so that splatters can be easily wiped off. Also ensure that you install an electric chimney over the stove to suck out strong smells and smoke, and keep your kitchen smelling fresh.
Affordability
The price of modular kitchens will vary depending on the materials, appliances and brand you choose. While ultra high-end kitchens, crafted with designer kitchen cabinets and modular kitchen interiors that resemble pictures most often seen in magazines, can cost upwards of Rs 3 lakhs, these are not your only option. You can get a basic modular kitchen for as little as Rs 50,000.
While we may not all have access to the top 10 modular kitchen companies world wide, in India, brands like Godrej, Unique Wood and Kitchen Masters provide well-planed modular kitchens at affordable prices. Here too, for kitchen cabinets cost per square foot is the usual calculation. Luckily, many reputed brands plan compact kitchen designs for small kitchen, with small kitchen units that are ideally suited for apartments and people looking for cost effective options.
Modular kitchens are easy to maintain and look great. Maybe it's time to give your kitchen a much needed makeover.