Most of us at home have a dining table and chairs, which are often used for everything else other than dining. We pile clothes on them, stash away newspapers, keep utensils and more. Often, despite buying them for the purpose of dining, we drift away from using the table or chairs if the height isn't adequate, using it becomes uncomfortable or the table causes postural problem and backache. Understanding the ergonomics of the dining set before purchase is therefore very important.
Dining tables are often among the last set of priorities when buying furniture for the home. We look for their size, shape, materials and how many people can they seat, without considering their comfort. Their height and ergonomics is actually something that should never be ignored because we are spending so much money on them. Returning them after purchase is just not possible. 
Dining sets are often bought,
Together, as a complete set

Only dining table to go with existing chairs

Only dining chairs to go with an existing table
When buying such a set, it is important that the dining table and chairs go together, in height and comfort. It may sound simple to do this but its the tabletop thickness, and top rail height that may make all the difference.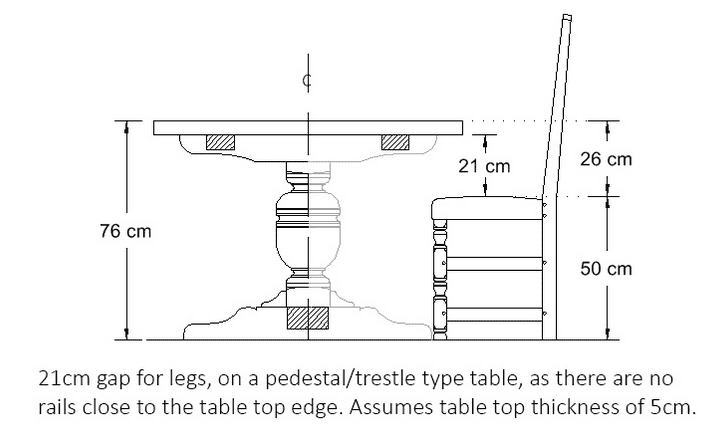 IDEAL DINING CHAIR & TABLE HEIGHT
The ideal height of the dining chair seat to tabletop as per ergonomics must be 26 cms. Majority of chairs today have the chair seat at either 50 cms or 76 cms from the floor which is enough to achieve 26 cms. This is comfortable for the lower half of the body to fit between the gap without discomfort.
SPACE FOR LEGS UNDER TABLE
According to ergonomics, the minimum gap to fit in our legs under the table should be not less than 12 cms. 
In the olden days, pedestal tables and trestle tables did not have thick tabletops nor a railing around the top and this made it easy for feet to spread out, move around or be folded under the table. Modern tables have a side rail, four legs and the varying thickness of the table top which makes the space less than ideal. 
TABLE DESIGN
Tables today are majorly sold in square or rectangular shapes. Roundtables have today become very rare, mainly because they are considered a dated design. These tables also take up space and offer very little table top space to keep utensils.
Among table, while Square Tables seat 2-4 people, can be placed easily and offer adequate storage, rectangular tables help seat a number of guests and are suitable for families with a floating population. They can also be used as a buffet table but require plenty of space in a room
Dining tables and chairs need to be bought with care as they are going to stay with the family for a long time. Chairs without armrests, sloping back ones, tables that have too many decorative elements are all great to look at but can cause inconvenience.
If you're searching for a new dining table and chairs for your space, or want something to complement your existing one, connect with us at HomeLane anytime and we'll design an ergonomic one that fits your needs.