Corian Countertops are glamorous and look deceivingly similar to marble and granite, but these are the only attributes that they share. The look and finish of this material makes it a very sought after option for designing kitchen countertops.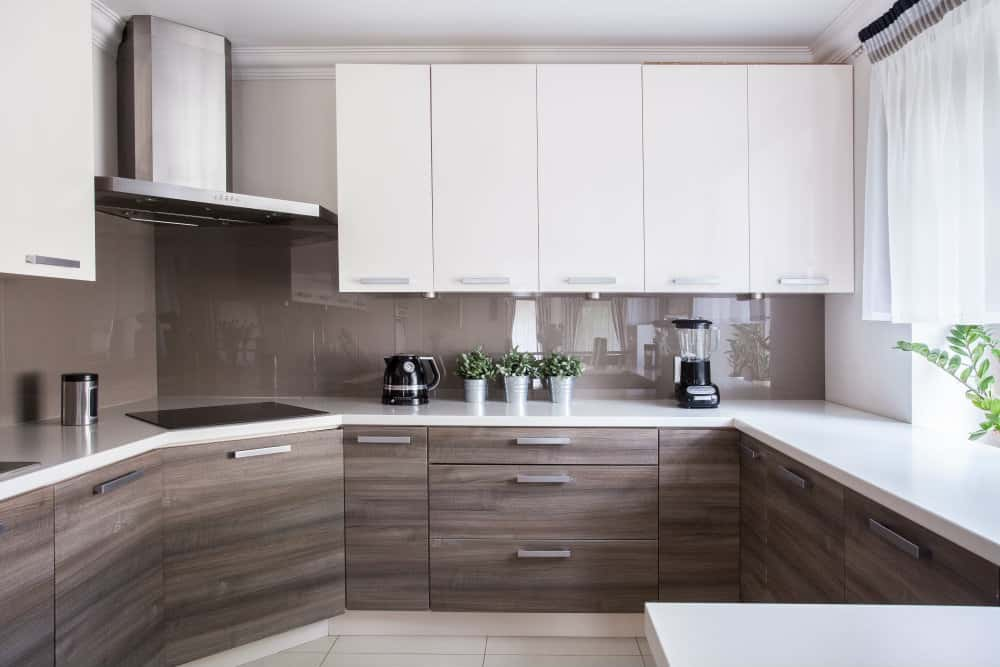 Also called 'Solid surface countertops', corian is a blend of acrylic polymers (mainly plastic) and stone derivatives. These solid sheets are formed when the mix is poured into uniform molds. Because of the consistency of the composition, the material looks the same across its thickness.
While previously, corian countertops had a mottled earthy brown hue, the options have expanded to include almost all the colors of the spectrum, from solid blacks, to natural beige and perky browns. Where simple blacks and classic whites fulfill the modern-minimalist aesthetic; golds, purple and corals explore the material's playful side. The incorporation of stones, broken glass and pebbles gives the material an added dimension of texture and design while making it appear natural. Corian have some exciting positives, yet a few negatives too.
PROS:
These countertops are solid surface countertops that mimic granite and marble, down to their luster and appearance

Corian countertops are available in a variety of different colors, from bright pinks and purples to bright turquoise and icy blues

The material is relatively stain resistant and can be cleaned easily using water and soap.

The main attribute of corian is its availability as a pre-cut and pre-designed material which can be tailored to suit individual kitchen requirements, reducing material wastage and additional work

The material is also seamless and clean, therefore showing no unsightly seams or jagged edges. In addition to this, a variety of edge styles can be incorporated as per the kitchen design, from a simple 'eased' or 'bullnosed' edge to more elaborate 'Classic' or 'Spanish' styles. Edges can also be simulated to mimic the standard block countertop

Backsplashes can be created using the same corian material, and seams can be altogether eliminated by molding a corian backsplash with the countertop

Corian can be used to create single and double bowl sink configurations in myriad colors and textures. They can be separately installed either as top or under-mounted, or even merged with the countertop to create a seamless design. Most countertops also come with a built-in drain board to keep the area tidy.

The material is easily moldable, and can be crafted into any shape or curve by a process known as  'thermoforming', providing limitless design possibilities.

Another plus for this material is its ability to glow through the surface. Lights and illumination can be discreetly hidden into it.

Corian is less expensive when compared to other materials and is easy to fabricate, with relatively less wastage.
CONS:
Corian countertops are stain resistant, but can scratch easily and most often permanently. Since these solid surface countertops are soft, one has to be very careful using knives and other heavy utensils that can scratch the surface.

Another negative is the material's inability to withstand hot pans and cooking vessels beyond a few seconds. This can damage the material permanently.

Although the basic source material is comparatively lesser priced than granite or marble, the final price for corian can differ considerably depending on myriad other factors including color, complexity of the kitchen / countertop design and configuration, intricate design details like edges, drain boards, mounted sink or any special shapes.

Although relatively easy to clean with basic materials, prolonged exposure to regular cleaning agents like bleach can cause discoloration. Window cleaners and other strong abrasive material should never be used on them. It is better to stick with pH neutral cleaners for corian countertops

The uniqueness of corian countertops is the ease with which the material can be repaired if dents, scratches or damage occurs. Replacement is not always necessary. If the damage is minor, simple sanding or scrubbing of the scratch or blemish and evening out the surface can be carried out as a simple DIY task. For deeper scratches, re-surfacing may be a more viable option.
PRICING
While the basic cost for a 20mm corian countertop starts from Rs.1,500 per square feet, including installation, complex fabrication and customization can push the price still higher. For more details on Granite, Marble and other varieties of popular kitchen countertop materials, read more on the blog.