Kitchen islands are quickly gaining ground when it comes to kitchen decor, and installing one in your cooking space gives you a whole lot of useful benefits. But will they fit into your cooking space?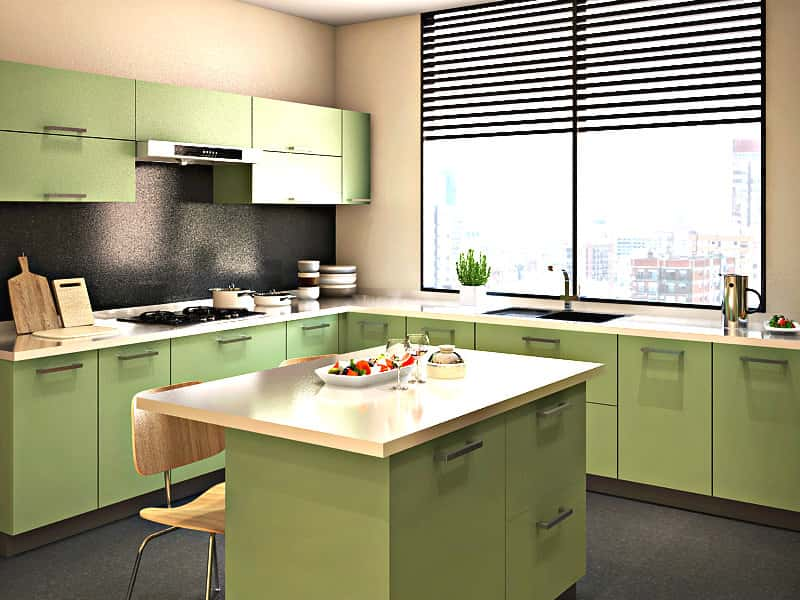 A well-planned and intelligent kitchen design can include this useful element, facilitating a smoother work flow. Add to this, islands also provide additional space for preparing, cooking, dining and storage. As great as an island is, it can also make the cooking space cramped up if not very well planned. It has been observed that many people today are seeking this feature – 1 in 5 clients who come to us – and insist on developing an island even in their small kitchens.
If the idea of an island in your kitchen is enticing, then these tips will help you decide whether there is enough space to make it work for you or give you other options to work around.
1. 'ONE SIZE FITS ALL' IS A MISNOMER 
It's a mistake to assume that small kitchens cannot accommodate an island. There are many ways to make an island work, and even with limited space, designers can work around it; either by reducing depth, customizing the height or enlarging cabinets.
2. UNDERSTANDING THE SPACE FOR FREE MOVEMENT
While designing an island, it is essential to factor in whether the family has space to move around. This depends on how many people live in a house and how much the kitchen will be used. Of more importance however, is the size of the room. Standard rectangular rooms, of 10 feet length and 8 feet width, will have cabinets positioned along the longer wall. Their depth from back to front usually measures about 600 millimeters.
For any layout design, there should be an adequate space between the countertop edge and the island's countertop. This 'clearance zone' or space for free movement between the two adjoining work areas, should have an ideal distance of about 3 feet or 1 meter. This ensures that there is free movement surrounding the island and throughout the kitchen.
3. WHEN 'SAFETY' IS AN OPTION 
The safety of your kitchen island is especially important since there must be enough clearance space between it and the adjoining and opposing surfaces – cabinets, appliances, refrigerator, ovens, dishwashers and their doors. There should be enough room to open them safely and without them having to bang into each other. Also, since islands are generally the hub of activity in a kitchen, there is a chance of tripping over dishwasher doors if left open, or banging into lower cabinet doors that are ajar. It is always advisable to leave plenty of space around an island.
As a rule of thumb, the minimum distance between two fully extended drawers opposite to each other should be about 3 feet or 900 mm.
4. MULTI FUNCTIONAL KITCHEN ISLANDS 
Islands work well for the kitchen when they are planned as a multi-functional workspace, otherwise they end up creating dead space. Combining a practical worktop with a clever seating option, storage drawers and cabinets accommodates any additional kitchen needs while maximizing the limited space.
5. OPT FOR GALLEY ISLAND LAYOUT 
A galley kitchen island has an important advantage, and that is the accessibility of the space. Since this layout has kitchen counters running along one wall, they are relatively safe and easy to use. Islands work well in these, as they allow you to work between them and the kitchen countertop seamlessly, where all you need is a spin of the heel, to reach across cabinets, appliances and cupboard while cooking. If the free moving space is more than 4 feet, it will require more movement and greater work, making kitchen use labor intensive.
6. CONSIDER 'ISLAND STYLE' KITCHEN ALTERNATIVES 
 An island may not always be feasible for most kitchens. Either your cooking space may be too small, or too long, or it may even be a pre-existing one that you just want to give a new look.
Reducing cabinets or breaking kitchen walls to accommodate an island may not be an easy option for everyone. Therefore opting for other alternatives that mimic an island may work well for the kitchen. Mobile trolleys, moving islands and even discarded wine barrels are all compact, can be tailored and are incredible space savers. They also add functionality, offer additional storage and cost much less than a fixed kitchen island.
7. MAKE YOUR OWN STYLE 
Kitchen islands don't always have to be square or rectangular. They can be tailored to any look, shape or design you prefer. There are multiple layouts and sizes one can choose from. You can choose to design them at different levels, or make them oval or circular based on the layout.
8. DOES A 'KITCHEN PENINSULA' WORK FOR YOU 
Rather than a full island, a kitchen can also have a half-island or a 'kitchen peninsula'. Described as 'almost an island' in its Latin translation, peninsulas are great options, particularly since they are fixed to one part of the kitchen counter. They are practical, multi-functional and a great choice for small kitchens, since they occupy less floor space. Unlike an island, a peninsula requires less clearance space. While an average island, measures about 4 by 8 feet, with a clearance area of more than 3 feet, a peninsula would need extra space only on three sides, making maneuvering easy.
Whether small kitchens or large ones, you can make an island work for you by designing it intelligently. To get an expert's opinion on design and what layout works best for your cooking space, do reach out to us at HomeLane.com.