Empty spaces are the bane and boon in kitchens and in many homes, they are either used creatively to create a quirky focal point, or in others crammed with things that make them an eyesore. The space above kitchen cabinets are the perfect example for the most overlooked part of a kitchen. Below are a few ways the awkward space above cabinets can be made to look interesting.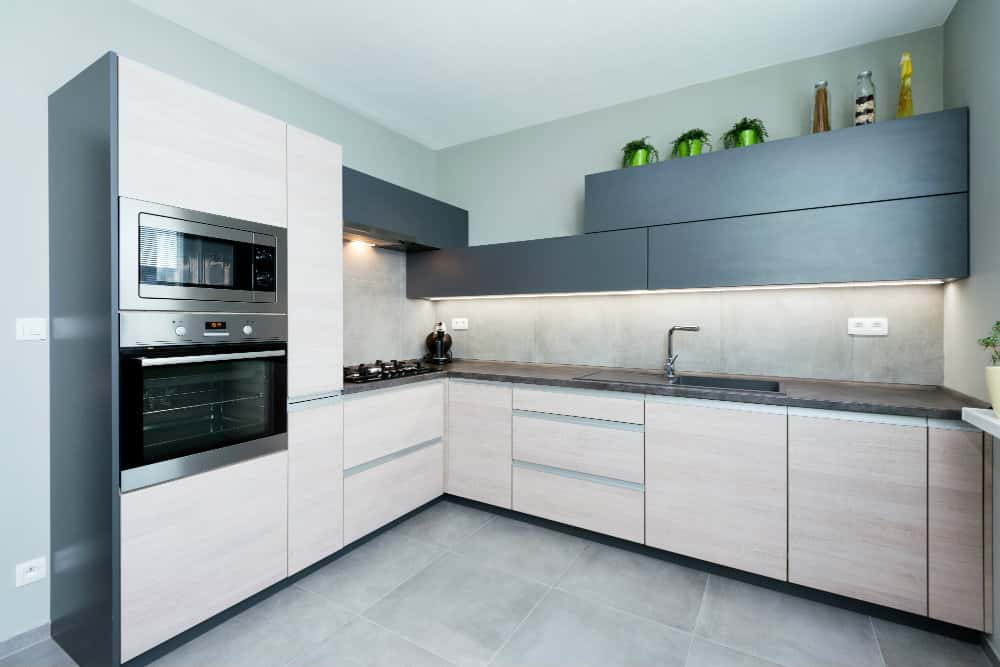 Among the spaces in the home that can be optimized to a large extent, are kitchens. There is so much that goes on in one, and so many uses that it can be put to, that the possibilities are limitless. Whether a kitchen is compact or expansive, it can be functional and aesthetic at the same time. In many homes, they remain awkward, stored with all kinds of accessories and knick knacks that are crammed together, or left idle to collect dust and grime over the course of months and years. If you've got a kitchen with high ceiling and a few feet above the cabinets to work with, there is so much you can do to make it an interesting focal point.
1. BLEND IN COLOR WITH GENERAL KITCHEN PALETTE
A kitchen with a stark color contrast can make space above cabinets appear glaring. Having a ceiling in white and cabinets of darker hue create an emptiness that is just yearning to be filled. White cabinets minimize this, as well as cabinets in pastel and lighter hued colors. Adding a crown molding also blends the space, minimizing the awkwardness of the cabinets. In the below kitchen for example, cabinets in white and crown molding creates a simple visual statement, finishing the space.
2. ADD LIGHTING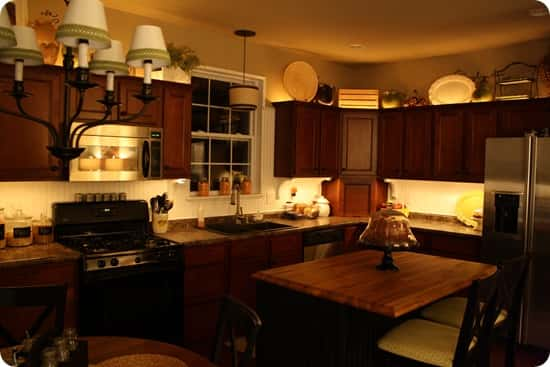 Creative lighting not just brightens up the kitchen, but also adds a bit of drama to the space, without the accompanying clutter. Adding twinkle lights or rope lighting suffuses the room with a warm glow. Combine this with little curios and other vignettes to create your own kitchen story.
3. CONVERT INTO ADDITIONAL STORAGE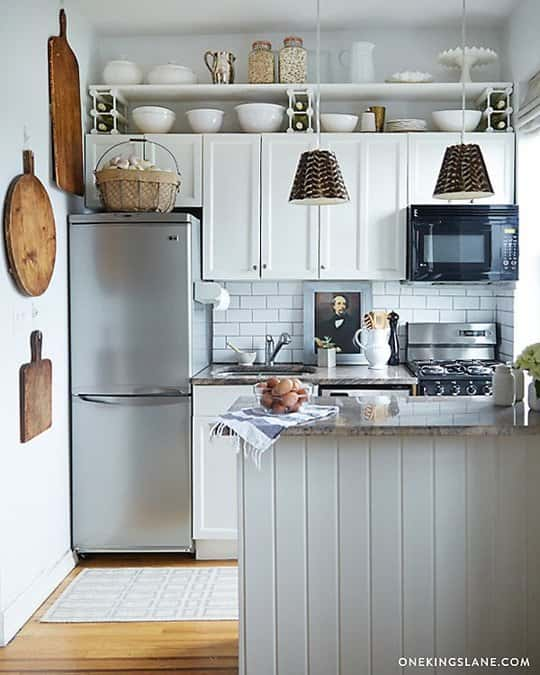 Yes, add anything, but do it creatively. The trick in filling up empty space above kitchen cabinets is adding a decor element that adds to the kitchen space rather than takingdown. Therefore although it is alright to store stuff in the space, it should be done wisely. Put up jars or ceramic bottles in an ascending order, stack cookery books neatly according to cuisines, place colorful baskets to store wine bottles or your stash of pickles, there's so many things that you can do.
4. ADD POINTS OF INTEREST

Wallpaper can fill the space and works to create an interesting focal point, while art works that cannot find a place anywhere else can immediately spruce up the kitchen. Art creates an interesting focal point for the kitchen decor. Chalkboard paint is an innovative option on which anything can be written for a fun and playful kitchen makeover.
5. ADD ADDITIONAL SHELVES 
Not often accepted but a very handy concept, is adding additional shelves that provide storage or closing the space entirely. Doing this does crowd the space, but can be used intelligently for storage. Completely closed off upper shelves can be used to stack all kinds of utensils and other items that are rarely ever used.
6. ADD GREENERY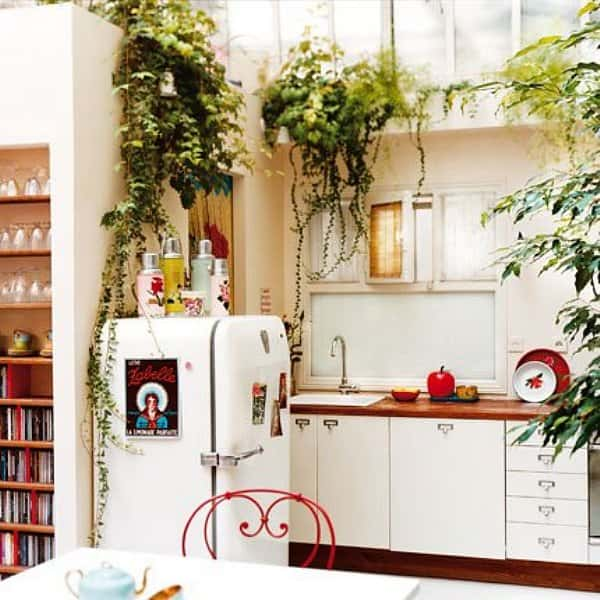 Although fake plants may not be a great option, using them or real ones gives a fresh vibrant feel. Lush greenery is loved by everyone, and another advantage is that the dead space gets cleaned regularly while sprucing it up.
7. MOVE WALL CABINETS TO CEILING

Not for the faint hearted, but if you are really annoyed with the dead space above cabinets, a great idea would be to remove and fix cabinets to the ceiling, placing additional racks below. The kitchen might appear too busy, but when cabinets are done in white, it prevents the space looking too claustrophobic.
8. DISTRACT

If nothing much can be done about dead space above kitchen cabinets, then distract the viewers attention away from them. Use colorful bright rugs in the kitchen, a large painting on one wall, bright bar stools, attractive pendant lights, anything that can engage the viewer's attention considerably.
9. PAINT CEILINGS

Painting the ceiling in the same color as the rest of the kitchen is an attractive concept. Light shades in sky blue or pastel pink work with wood cabinets as well as MDF brilliantly, to create an interesting decor. Dead space in kitchens need not be left as is, but can be designed in a way to enhance the room decor. For ideas and inputs on how this can be done, do reach out to our kitchen designers at HomeLane.
Photo Source: Housebeautiful, MSN, Your Home Only Better