In the last couple of years, kitchens have undergone a major transformation; from fixed boxed cabinets to modular ones, angular granite countertops to deconstructed wood and steel. What is perhaps a remarkable part of the kitchen makeover, and one that blends the look of traditional kitchens with the functionality of a modern space, is the Open Shelves.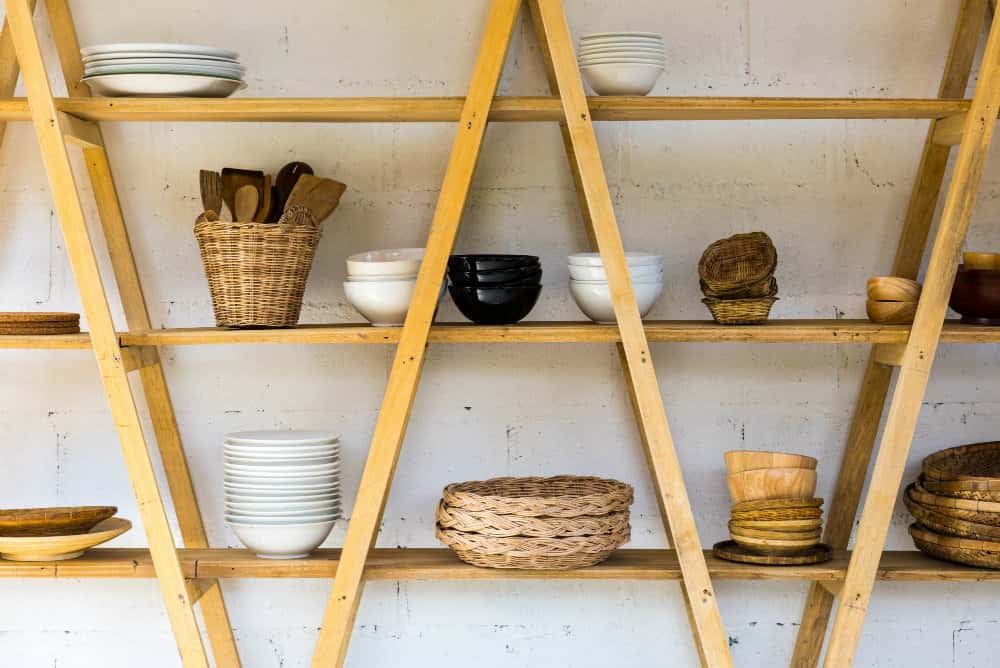 Open shelves were at one point of time commonly found in country kitchens and homes with large households, where the number of ingredients and utensils far surpassed the needs of the inhabitants. Open shelves provided more space and accessibility, made cooking easy and were perfect for a more farm to table, rustic lifestyle. These gradually began to be replaced with cupboards and closed cabinets, to give the kitchen a cleaner look and for better organization.
These shelves have, however, made a robust comeback into Indian kitchens in the last few years. People today want to have a mix of the old and the new, and including shelves like these give kitchens a more spacious feel. While many of us admire the pictures of such beautiful shelves in magazines and catalogues, it may or may not translate into absolute convenience or practicality in real life. This trend is eclectic, combines modern and the rustic and is a catchy way to display crockery and dinnerware. But is the style perfect for you and your home? Below are a few pointers to help you decide, whether open shelves are apt for your Indian kitchen;
1. OPEN SHELVES INCREASE STORAGE 
Although closed cabinets are always preferred, open shelves increase storage options and are versatile. Closed wall cabinets, can make the room seem cluttered, minimize space and are generally inaccessible. Corner cabinets also hamper the kinds of crockery that can be stored, and items therein most often tend to be less used.
Open shelves accommodate a number of large and small crockery, different shaped ones and look open and more relaxed.
2. OPEN SHELVES MAKE KITCHENS BRIGHTER & CLEANER
Upper wall cabinets that are closed often make the kitchen feel cluttered and claustrophobic. It also makes the room appear dark and small. Keeping the shelves open allows natural light to move around, and enhances the sense of space.
3. OPEN SHELVES ARE WARM AND WELCOMING
When shelves are open, it invites people to be a part of your kitchen space, makes it welcoming. Family or visitors don't have to constantly ask about where cutlery is stored or what crockery to be used. They can help themselves to what they need. Keeping food and crockery in open view also makes the kitchen look less forbidding.
4. OPEN SHELVES CAN BE CLEANED EASILY
With open shelving comes the increased collection of dust and grime, but these happen in every home and something that a weekly cleaning will sort out easily. A spick and span kitchen will make the whole place cheery and bright.
5. OPEN SHELVES MAKE ORGANIZATION BETTER
These shelves are very convenient, especially for the spouse or guests who are searching for things or generally tidying up. Utensils, crockery and food items can find their way to the desired shelf without a mess, leaving counters tidy and neat.
6. OPEN SHELVES ARE INEXPENSIVE
Closed cabinets can be expensive, and most of us know that we allocate a greater part of the budget to them. An easy alternative to this without compromising on the look and feel of kitchens are open shelves. They are economical, a clever addition to dark and dank spaces and very easy to put together.
7. OPEN SHELVES DISPLAY CROCKERY
All the beautiful heirloom crockery that you've collected over the years or quirky curios from across the world will have to be stored away for want of space to display them. In small homes especially, open kitchen shelves provide an interesting space to showcase pretty glassware, classic dinner sets and they help create an interesting focal point.
Open shelves are versatile, but their choice depends on whether you would want to make them a permanent part of your kitchen. You can either try removing your cabinet doors for a few weeks or a create a temporary open shelf nook to see whether this is something that can work for you in your kitchen.
To view some of our kitchen designs featuring open shelves or get more information about them to create a unique look for your own cooking space, do reach out to us at www.homelane.com.