For the design of our homes, we all wish we had an expert eye who would suggest what needs to be done and how to go about it. Truth be told, it isn't that difficult. We've compiled 5 steps that will make you think like an interior designer yourself and set up your home in a professional way.
Hiring interior designers can be a costly affair, and not affordable by everyone. Do believe though when we tell you, that you don't have to be certified to think like one. Home design is always about putting together a look that you will love and a space that you can come back home to. Learn these steps and surprise yourself.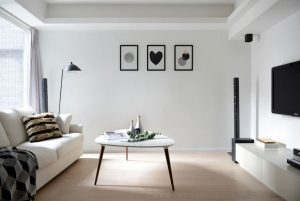 1. ASK YOURSELF SOME HARD QUESTIONS
Before jumping in to decorate, always start with questions – plenty of them. Interior designers always start with asking you about your likes, dislikes and preferences and don't jump right into painting walls or moving things around. 
Begin by asking yourself what is your end goal. Think of function before you think of looks. Put it all down on paper. Take stock of what you have, what you want to buy, ask your family about their ideas and put up a realistic budget. By gathering ideas at the start, you will have covered all options and get an idea of where to begin.
2. FEEL THE SPACE AND COLLECT IDEAS
If you've heard about gut feeling, then this is all the more important when it comes to your home. What kind of feeling do you want your rooms to exude? Should they be warm or spartan, airy or nostalgic. Collect ideas for different rooms based on the feel you want to put into them. Look through design sites, Pinterest, instagrams and sketchbooks. Put together ideas, pen them down, decide what are absolutely necessary and what are unimportant. Also ensure that the items you want will not make you overshoot your budget. This stage requires a lot of changes, iterations and adjustments. You can always discard the ideas and start from scratch.
3. START BIG AND TAKE RISKS
When decorating a home, its always best to get larger, more time intensive projects out of the way. Painting walls and putting up furnishings take time and cost money. Once these are done, the rest of the smaller projects can be decided or budgeted accordingly. This also takes away the stress of doing big things. When designing, it isn't always good to stay safe. Although you must be as close to your aesthetics as possible, what is change unless you take some risks. If you  have never tried an industrial theme before, do it now. Try blacks and whites if monochromes attract you in other's spaces. Try risky in small things, if it isn't your comfort zone. Doing up your home isn't about sticking with what you've grown up with, but allowing yourself to open up to new thinking.
4. MIX DESIGNS & STYLES
Design aesthetics look seamless when they flow rather when strictly adhered to. If wood is something you love, it isn't compulsory to do each and every thing in this material. Try wrought iron or ceramics and mix and match wherever you can. Blend classic traditional styles with modern elements such as a waterfalls, place greenery within the home, allow the contemporary and sophisticated to live together. Let it all come together and flow in a balanced, cohesive way and you will see how beautiful your space looks.
5. PAY ATTENTION TO DETAILS
Postpone the choice of small details till the last. Accessories and curios are fun to buy but can eat up a lot of money. Plus, you never know initially whether the small table you buy will be needed or the lamp you purchased will ever be used. Flooring, wall color, and furniture – in that order – are the large decisions. As tempting as it is to buy small items, try and avoid it till the last.
Thinking like an interior designer starts from putting yourself in the shoes of one. It is all about going about it slowly, carefully, with much thought and purpose. Once you begin, what you do for your home will showcase your work as a pro.