Kitchens are no more the dull, damp and dungeon-like spaces of old. They have undergone such a remarkable makeover through the years, that modular kitchens of today are stylish spaces by themselves. One defining characteristic that sets them apart are modular kitchen accessories, that makes life easy and kitchens look good. 
Modular kitchens look good, are sleek, versatile and do much for storage. What sets them apart from kitchens of old is the storage – clever, discreet and functional – a flawless system of organisation that makes cooking such a delightful chore to indulge in. Kitchen accessories are the framework that makes them look so good without compromising on function. Here are 5 that you must really have in yours.
1. TALL UNITS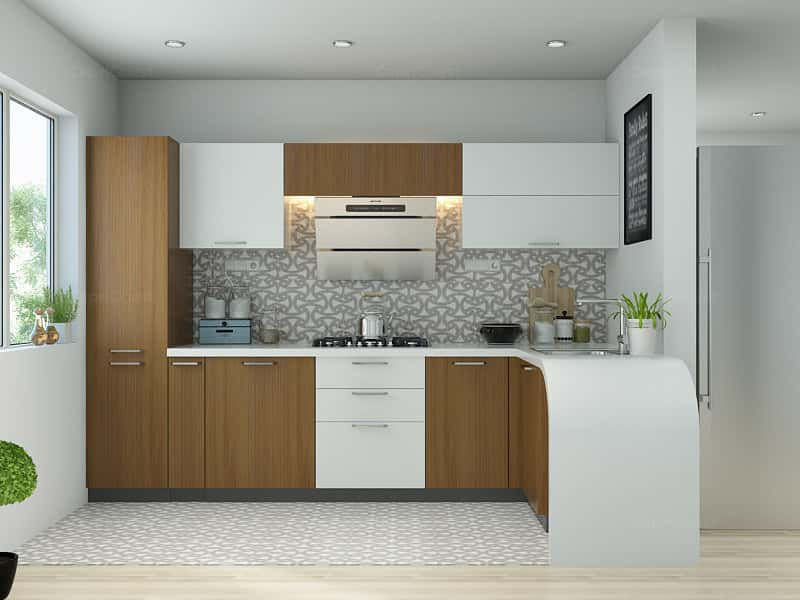 Kitchens with tall units pack in so much that it is amazing when you wonder where all the stuff just disappears. The significance of tall units can never be overemphasised. When kitchens have a huge amount of cutlery or groceries which have long shelf lives, this kitchen accessory utilises height to enable their storage. Tall units function as pantries for kitchens in small apartments or where space is at a premium. 
Since they are often built at corners, they are discreet and merge with kitchen walls. They store liquids as easily as they do bottles, food and delicate items. They are also perfect places for items that need to be stored in cold, dry and moisture-less spaces.
2. TANDEM DRAWERS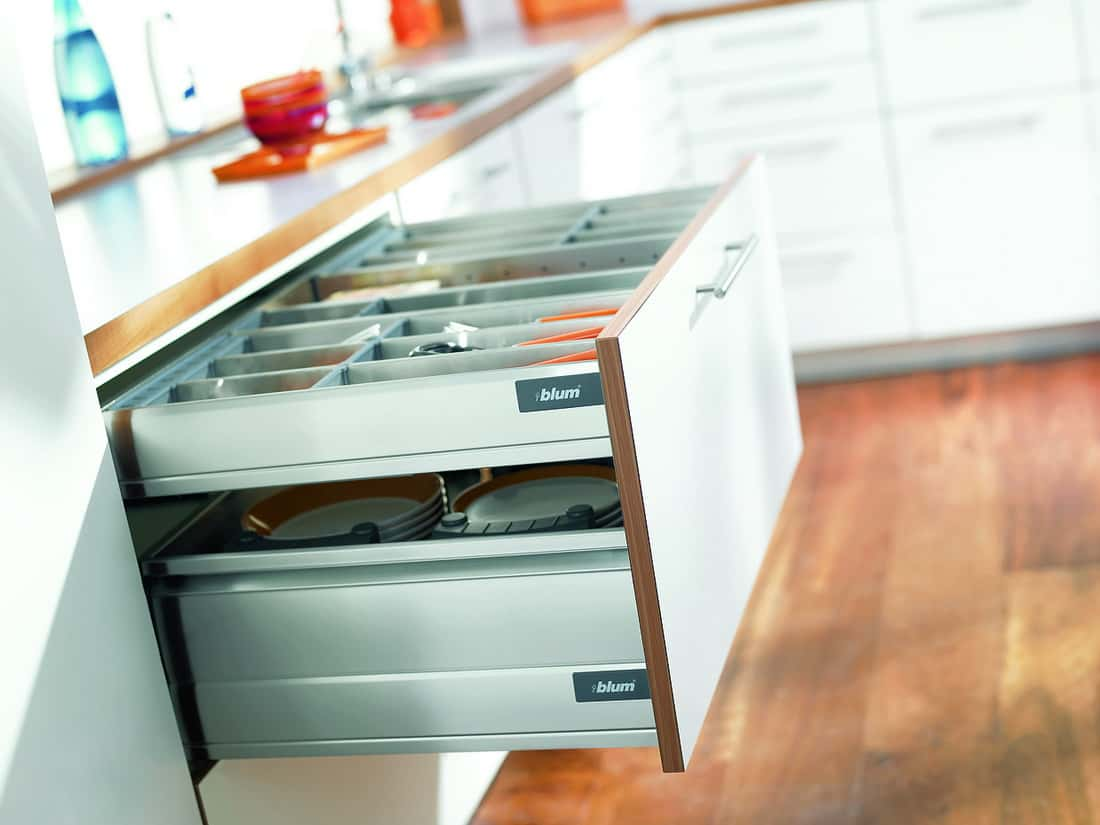 When it comes to storage, cabinets are often the first thought. Intelligent drawer systems trump cabinets in that they are easy to manipulate, make use of dead space optimally and offer considerable storage when used wisely. Blum, Hettich have tandem drawer systems that slide out, come with metal sliders and can take the large capacity of loads. HomeLane uses these reputed brands in all our modular kitchen designs and they also look good.
3. CORNER SOLUTIONS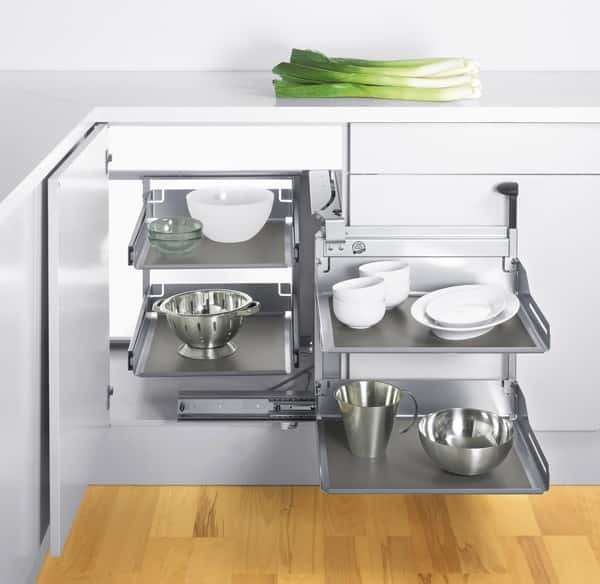 Corner spaces in kitchens, as we've discussed before often go waste. Their narrow and hidden access makes it difficult to utilise them. Leman's Corner, Magic Corner, Lazy Suzy's and other such corner solutions in cabinets are designed in such a way so as to make their access very easy and smooth. They are either kidney-shaped, rectangular or half-moon shaped and can be manoeuvred to slide out and in without blocking access and being able to pack in much storage. Corner accessories are perfect for L-shaped and U-shaped kitchen layouts.
4. PULL OUT DRAWERS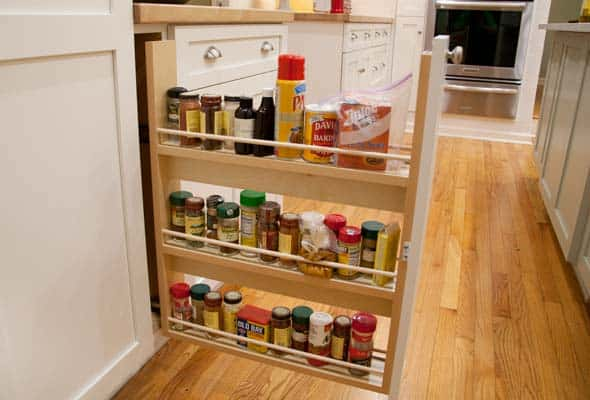 Pull-out drawers are usually placed at the end of lower cabinets. They optimise narrow spaces in kitchens, especially under wash basins and are kitchen accessories designed with narrow shelves for easy access. These pullout shelves are available in multiple widths and can be used for keeping quick access items like bottles, jars and cleaning agents. They are even perfect for creating a separate smaller work area for baking or other work.
5. CUTLERY/CUP & SAUCER Trays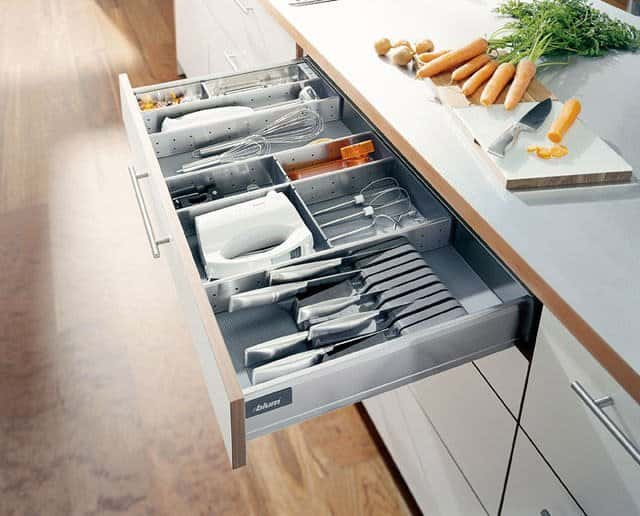 Believe it or not, but accessories strewn all over drawers are the most stressful things to view in a kitchen. Forks, knives, rolling pins and plates need to be in an organised manner to be more accessible and keep the kitchen looking clean. Modular kitchen accessories such as trays help segregate them and also helps you prepare meals efficiently. Cutlery inserts are available with separations and in a variety of materials to suit your kitchen.
Modular kitchen accessories are something that you really cannot do without, once you come to realise how much they help with organisation. If you think we've missed something that has helped you in your kitchen, mention it in the comments.