As sleek as it looks and manageable as it feels, a modular kitchen is only as much as the effort one puts into planning it. Although all of us know the different aspects of these kitchens and what goes into them, we have compiled a list of 5 must know tips on kitchen furnishing, that first time buyers have to keep in mind when setting up their own cooking space.
Modular kitchens in today's homes are no more dank and dreary spaces of old. They are eclectic, contemporary and personalized spaces that ooze class, combine design and functionality, make for great entertainment rooms and provide an ideal space to put together elaborate meals without breaking a sweat.
From the specific design that maximizes the functionality of the space, to the layout that helps manoeuvre utensils and food around and even the wood, furnishings and materials that make it up; each of these components work together to make the kitchen a space that one can come home to.
1. KITCHEN DESIGN or LAYOUT
Kitchen layouts are the basic structure around which kitchens are built. A traditional kitchen work triangle comprising the sink, hob and refrigerator can be played around with, to plan a layout that works for you. One walled or straight kitchens are minimalist, elegant and a great space saver. They suit compact kitchens and facilitate movement.
Galley or two walled kitchens on the other hand have counters opposing each other and offer plenty of storage. They are easy to maintain and reduce clutter. Alternatively an island can be added to a kitchen when required. They are not just multi-functional, but an interesting addition to the cooking space.
Choosing a design also includes the choice of materials, whether MDF or Plywood, stainless steel or wood and is entirely at the discretion of the homeowner but should be done with careful thought and consideration.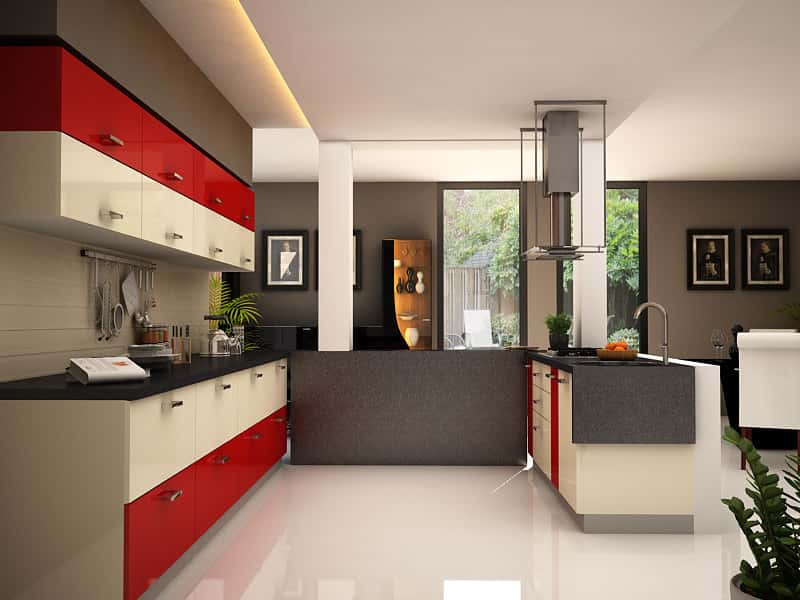 2. KITCHEN CABINETS 
Cabinets are fun to design, can change the look of a kitchen, from playful to sober and even downright subdued. The material used for them varies from Medium Density Fibreboard (MDF) to Plywood and even metal. Their choice depends entirely on where they will be used, whether they support a particular design, and what people actually like.
Fitted to this base material are laminates, that can be played with, to bring out the look and feel that is desired. Laminates come in all colors, textures and thickness. Alternatively, veneers can be used which are better and long lasting with the same kind of variety as laminates.
3. KITCHEN BACKSPLASH 
Built into the back of the kitchen counter, covering the lower walls and extending the length of the lower cabinets, a backsplash protects the kitchen from spills, splashes and stains. In Indian kitchens, backsplashes are particularly important because of the food cooked, the process involved and the excessive use of spices in the food. Backsplash come in glass, tile or even wood. Off-late they are even available in metals such as stainless steel.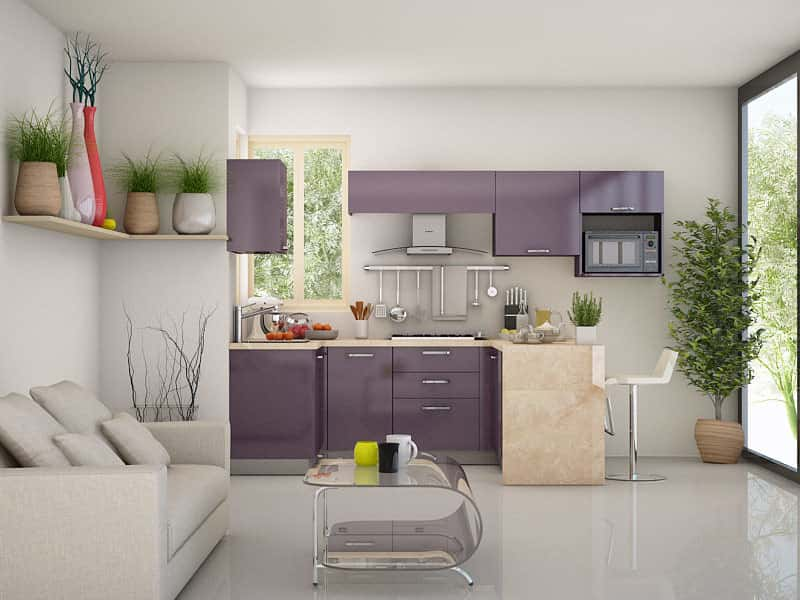 4. KITCHEN FLOORS
Floors may not be considered as essential as the rest of the kitchen décor but they are nevertheless important. Kitchen floors add to the overall look and design, make movement easy and support the body when cooking for long hours. Although ceramic tiles are the floors of choice in most homes, many homeowners opt for wooden kitchen floors for ease of use, maintenance and the elegant look they add to the kitchen décor.
The second option after the more obvious design of kitchen cabinets, countertops are used for food preparation and essential storage. In effect they are one of the most used and most abused part of a kitchen. The choice of countertop material also depends on several factors, prime among them being the kind of use the kitchen will have to undergo and whether the material can withstand it. Granite is the material of choice for kitchen counters, but marble, corian and wood are the lesser known alternatives.