Women have a fascination for collecting and showcasing crockery. A crockery unit or a crockery cabinet is the best place where you can store as well as display the crockery pieces you use in the house. A crockery cabinet can be placed in the kitchen, living room or dining room, depending on the space and use. Therefore, we have some classy crockery cabinet designs for you.
A crockery cabinet should have an ample number of shelves, racks, and drawers. In short, a good storage capacity to accommodate all kinds of crockery. Hence, before getting a crockery unit designed, you must check your chinaware and get it done according to the requirement.  
Wall-mounted Crockery Cabinet 
Small homes with less space love the idea of saving the floor space to the maximum. Wall- mounted crockery cabinet is widely popular in Indian households. The wood finish of this cabinet adds to the décor. In addition to this you can also go for a combination of a wall-mounted cabinet and open shelves with a sideboard cabinet. This red crockery unit is a perfect blend of beauty and utility.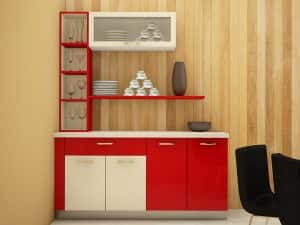 China Cabinets
China cabinet or crockery cabinet is generally made up of wood and is a single piece of furniture. A china cabinet looks elegant in your living room or dining area. The glass shutters of the cabinets look exquisite. Thus, you can keep an eye on your chinaware through these fine glass shutters.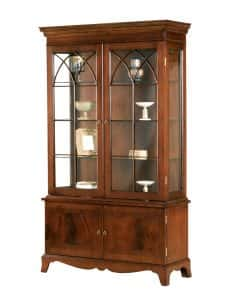 Crockery Sideboards
Traditionally a sideboard is a cabinet which is kept in the dining room for the serving purpose. A crockery sideboard has become a favorite in houses today. Sideboards are generally designed and ornamented but nowadays simple wooden crockery sideboards are in trend. You can also select a sideboard according to your dining table color and texture.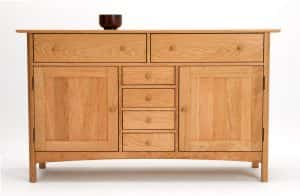 Crockery Drawers
A simple chest of drawers is a compact style of storing the crockery. If you have a lack of space or you stay in a dusty area, then a closed unit is an appropriate design for your house.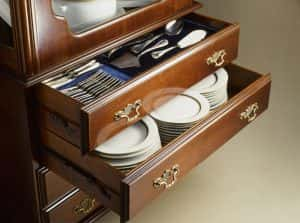 Modular Crockery Units
In today's world of home interiors, every design takes up a compact shape.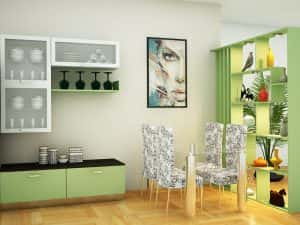 These crockery cabinet designs are a perfect fit for every Indian household. The size of the cabinet varies upon the requirements of each family. But a crockery unit is a must for every household. 
Therefore, get a customized crockery unit for your house today.