If you've looked over your life in the past few days, you've either have spent it stuck in traffic in the rains or hunched over your work desk at all hours. While there isn't much that can be done about the former, there is something you can do about the latter especially if you are someone who is conscious about good posture and want the right work table for your space.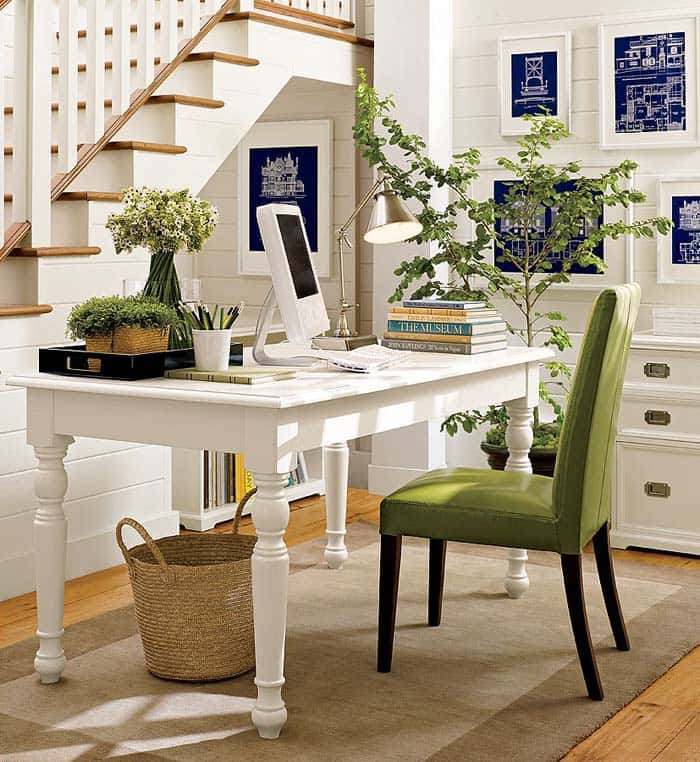 Healthy workspaces aren't a new concept, but its practice has been growing steadily over the last few years. Referring to the need to create workspaces in line with good postural practices, it is increasingly necessitating the need for buying and using furniture that is built ergonomically, with right postural alignment and using materials that are beneficial for the body.
Work tables are one such furniture that most of us spend a lifetime on. Besides working on them, we use them to store materials, eat food on and perform so many other tasks. Tables need to be selected wisely which often doesn't happen, because the choices can get very overwhelming. Below are therefore few quick tips that will help you select the right table for your workspace. 
1. TABLE HEIGHT
Not all of us are aware of the ideal height of our worktable. Often we buy furniture readymade, and therefore do not know whether the table is tall enough to seat us comfortably without discomfort.
To know what's the right height of the table for you, seat or stand yourself in the position you would use your desk in. Rest your arms at the side, keeping your elbow at a 90 degree angle and upper arms aligned with the upper body. If the desk height is right for you, your hands will rest comfortably on the chair.  
If you're having to raise your arms to place them on the table or bend your back for better alignment, that means you're giving your body a strain, especially in the neck, back and shoulders. It is better to get the right desk at the outset, than regret the purchase once its already done.
2. TABLE MATERIAL
A majority of our work tables are made of wood, but the type of wood isn't given much significance. Every wood has its own peculiarities and quirks, and can influence your posture and the work you do.
Softwoods such as pine and birch wood are less durable, get dented and marked easily. But they are also very comfortable to work on and cause less damage to materials, especially a laptop or desktop. Oak and maple are hardwoods that are slightly expensive but hardy. They tend to warp easily according to the vagaries of the weather and need regular upkeep. Modular work benches or work tables made of MDF or plywood are the best. These aren't affected by humidity, are strong and durable, can be sanded if damaged and provide a flatter surface. 
Combination wood comprises MDF or plywood layered over a hard wood base which is cheaper, can be put together easily and used for a long period of time.
3. TABLE LOCATION
Although not the first priority, location of the table is equally important. Tables can be placed in the centre of the room or towards the corners. While ones in the centre are larger, spacious and more accommodating, they can be distracting and cause wastage in the room space. Tables in corner of rooms are more discreet, functional, reduce any block and are easier to use.
Work tables aren't just functional but influence other room decor. The choice of chairs, cabinets and other furniture is dependent to a large extent on the kind of work tables we buy. To design a modular work table that is just right for you, reach out to us at HomeLane.