Cabinetry has always been a focal point for contemporary kitchens. While European kitchens use less upper cabinets, Indian kitchens have a mixed sensibility, and work kitchen cabinetry around other aspects, mainly the shape of the room, kitchen structure, window positions and most importantly vaastu. Compiled below, are a few handy tips that help you get the right mix of kitchen cabinets.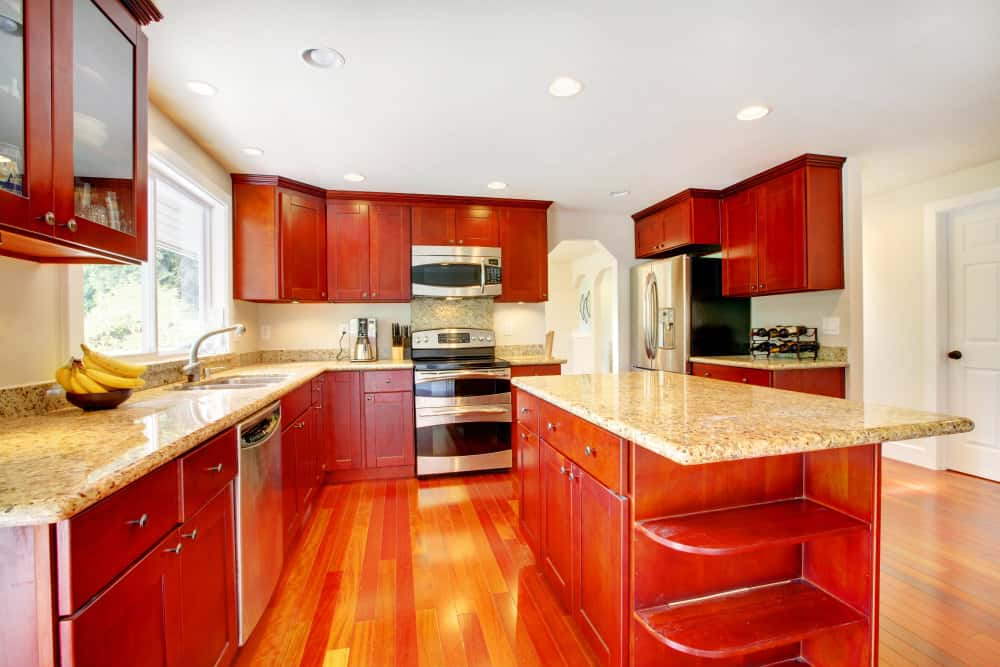 Kitchens as utilitarian spaces kept hidden away somewhere in the background, are no more the norm in today's modern homes.  For a contemporary kitchen that combines functionality with aesthetics, there needs to be a proper balance of kitchen cabinet designs, their placement, dimension and quantity. With kitchens becoming a home's centerpiece, and increasingly used to entertain guests, it needs to be designed in such a way so as to not make the space look claustrophobic nor too boring.
1. A perfectly balanced kitchen, features cabinetry and shelves that are designed and placed around daily kitchen functions.
Upper cabinets are for storing smaller and lighter items, which are seldom used. Dinner sets, glassware and fancy cutlery can be placed in these. Lower cabinets are for actual heavy storage. Cooking pans, cooker and other electrical cooking equipment, including food items can be placed here after use.
2. Having fewer cabinets on the upper level can streamline the look of the kitchen, making the space seem open, airy and uncluttered.
Keeping the upper cabinets at a minimum also frees up space to display wall art or photographs, giving the room a unique character. This is especially important for those who spend a major portion of their day here.
3. Since lower cabinets are generally used for storage of utensils and occasionally food stuff, having a mix of cabinets and shelves helps make it easier to handle them on a day to day basis.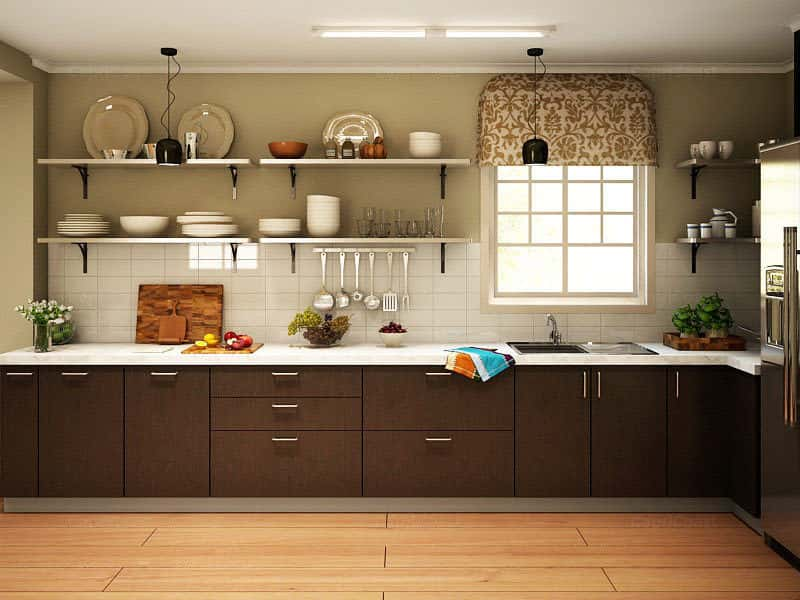 Frequently used accessories like knives and spoons can be placed in smaller drawers at the top, just below the kitchen counter, while remainder larger items can be placed in lower drawers as per their use.
4. Lower cabinets or floor-level storage spaces, do better with drawers rather than open and shut cupboards.
This way, you will be able to see till the end of the drawer and not be required to bend over and look for things kept at the back.
5. Having more large and deep base cabinets than upper ones, gives the kitchen a solid and universal design.
This also ensures that not much changes are required to be made in the basic design as years go by and the family's needs increase. In case the kitchen has an island, this too can be fully utilized by adding more of such lower cabinets.
6. If having plenty of upper cabinets does not fit in with your design sense, then compensating them with more of lower ones, takes care of storage issues.
However everything still needs to be balanced out aesthetically, and this can be done by giving upper cabinets a lighter finish. Designing them in such a way, creates contrast between the two levels, and especially so if the lower cabinets have a dark/dull finish. Alternatively, glass can be used as a finish for upper cabinets, giving them an elegant and luminous appeal.
7. Upper cabinets can even be fitted out with plain or frosted glass doors or a combination of both.
These are elegant, lighter and create a sense of openness. You can store crockery and display items in them as well as install lights inside, which will illuminate the upper section of the kitchen and make it brighter.
8. Mirrored glass doors for upper cabinets are another emerging alternative
They lend a sense of sophistication to modern kitchens, alternating transparency with opacity depending on the internal lighting used.
9. For people not too keen on cabinet doors, open shelving is a great option for upper cabinets.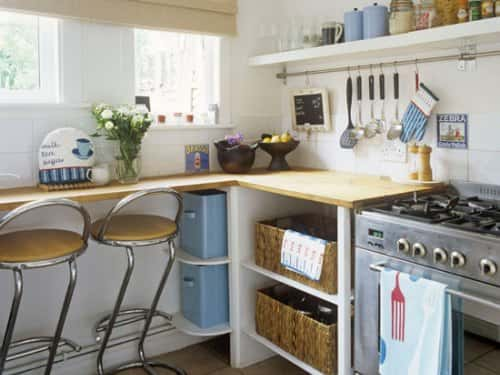 Expensive kitchen items can be displayed proudly and will also add a hint of your unique personality to the overall kitchen design. This can be balanced out by keeping the rest of the kitchen minimalist and understated. Customized, flexible open shelving can be created to achieve a unique look even in lower cabinetry.
10. Adding curves, designs and other flourishes to both upper and lower cabinet structures, lends a playful easy aesthetic.  
Kitchens need design and giving them a unique look makes them different and removes the sober and heavy look that boxed cabinets create. Every kitchen is different, and every homeowner has his own plan in mind while designing it.
If you need help in understanding kitchen designs, layouts that work with your cooking space, materials and color inspirations, do read more at HomeLane.