Among the many kinds of furniture in a home, wardrobes are perhaps given least the least amount of importance. Apartments and homes often come with a pre-defined built-in set, which may or may not be sufficient for the needs of the people living in it.
Small closets are ideal, but often do not suffice when quantity of clothes exceeds that of the space to store them. It does require careful planning and strategy to plan your clothing storage and create more wardrobe space. Here are 10 clever ways to go about it.
1. DECLUTTER AND DISPOSE
Rather than buying clothes all the time and adding to the existing wardrobe, creating a capsule clothes collection for each season keeps the quantity small and more relevant. Limited clothing space means that every item of clothing has to fight for its space. Rather than de-cluttering once a year, try doing different wardrobe sections every once in a while to reduce workload and keep clothes fresh.
2. OFF SEASON ITEMS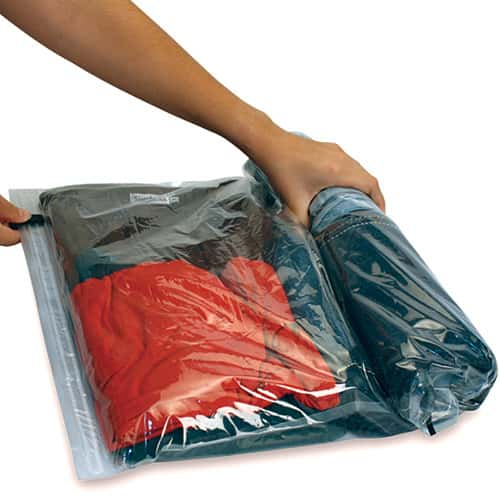 Clothing and accessories that are infrequently worn or off-season can be placed in storage and used only when required. The idea is to utilize prime wardrobe space for items that are frequently worn and in-season. Other items can either be placed in special storage bins under the bed, in the loft or filled into suitcases and packed with other off-season items. Vacuum storage bags are a great option especially for fleece blankets and other bulky winter clothing.
3. WALL HOOKS
Hooks, small rods in metal and wood are very convenient for quick tidying and storage of frequently used items. A few of these can be placed behind doors, along bedroom walls and even in bathrooms as they are great for urgent clean-ups, setting up next day's clothing and even hanging up worn once clothes.
4. WARDROBE CURTAINS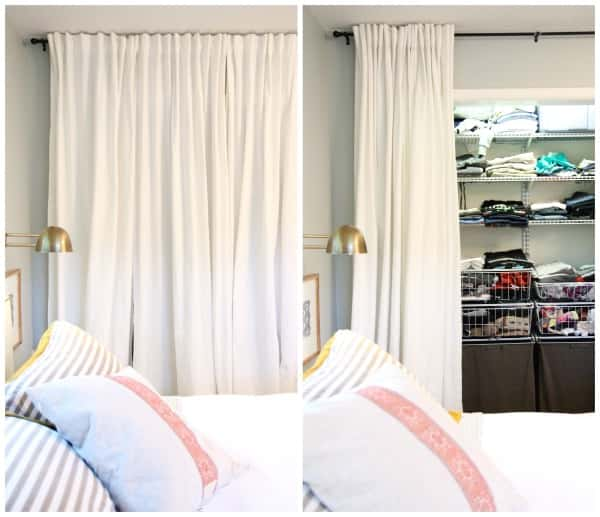 Rather than closet doors, curtains sometimes work well for wardrobes since they open wider, feel more spacious and save wall space which isn't occupied by doors. Curtains do give the sense of a larger space.
5. LIGHTING
Besides aesthetics and greater visibility, lighting encourages neatness in a wardrobe and also convenience. A small clip on or battery operated light fixture is more than sufficient even if there isn't any existing one.
6. STORAGE IDEAS
Rather than just hanging rods, a combination of rods, bins and shelves carves out additional space in small wardrobes. Infrequently used items can be moved at the back or on higher racks, while open bins and small drawers can be used for storing lingerie and delicate items. Small boxes can be re-used to store clips and accessories.
7. DIVIDERS & RISERS
Storage can be boosted by adding temporary, removable dividers – to keep piles of clothing from falling, and risers – that help store double layer items in wardrobes. Acrylic, wood or wire are unobtrusive and very apt.
8. CREATE AN ALTERNATE MINI WARDROBE
Often, despite doing much wardrobe space does fall short. Converting a bedroom corner or hall space into clothing storage with an attractive ceiling mounted rod or extra shelf also works great. Clothing needs to be attractive though, for them to be on display. Coats, blazers, hats and other fancy clothing can be stored this way.
9. ADDITIONAL STORAGE OPTIONS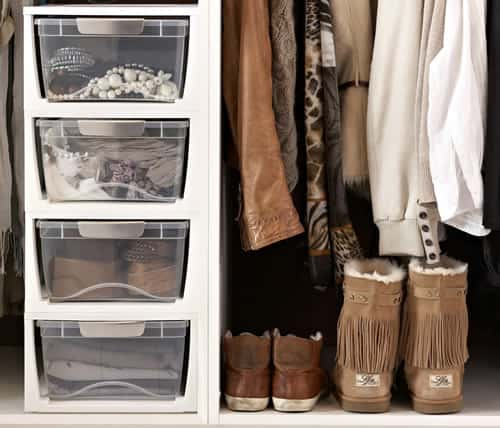 If rods and cabinets aren't your style, try bins and baskets for shelves. They work very well for storing socks, pajamas, sweaters and other smaller or infrequently used items.
10. PORTABLE GARMENT RACKS
A great alternative to small wardrobes are movable racks. These can either be racks on casters or coat racks which can be rolled away from room to room, hidden or folded when guests arrive. They can be bought readymade or can even be DIY with pipes and plumbing.
Carving additional wardrobe space just takes a bit of ingenuity and smartness. Wardrobe storage always seems to fall short, but doing the above will help create more space.
Design your own bespoke wardrobe design, look and feel with HomeLane. Choose from our existing designs and we will customize them for your home.